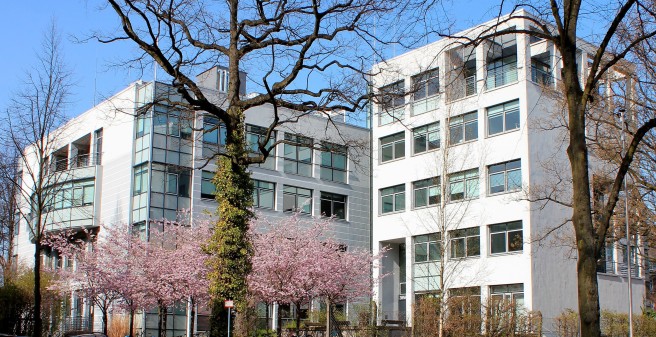 Graduate Program in Molecular Biology (ASMB)
This Program is no longer continued !
The Program was established at the University-Hospital Hamburg Eppendorf in 1986 to promote in a multi-disciplinary approach the ability for scientific thinking and working. This Graduate Program presents molecular biology and neuroscience within a broader context of the basic sciences and biomedicine.
Fundamental (basic) and clinical (applied) aspects are explored and are integrated with relevant areas of other disciplines. This course will be of particular value to those who plan a career in academic biomedical research or in a relevant industry. The course harnesses the unique and wide-ranging, high quality expertise that currently exists within the biomedical sciences and elsewhere within the University of Hamburg.
The Graduate Program is

orientated towards practical aspects
The Graduate Program is taught at the Center for Molecular Biology Hamburg (ZMNH) in collaboration with the Faculty of Medicine and is part of the Network of European Neuroscience Schools (NENS) .
This program is no longer continued.
Teaching
Contact
Scientific coordinators

Priv.-Doz. Dr. rer. nat.

Sabine Hoffmeister-Ullerich

For enrolling at the University of Hamburg please contact

Campus Center
University Hamburg office of immatriculation
Application team

Alsterterrasse 1, 3rd floor
20354 Hamburg

Tel. +49 -40 -42838 - 7000
Fax +49 -40 -42838 - 4486