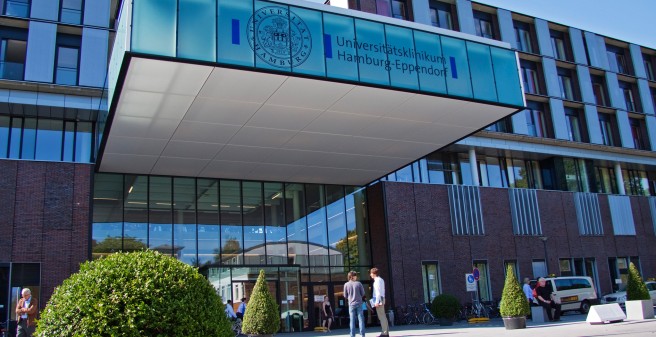 International UKE
The UKE has a rich international network and is part of a great number of international business, clinical and research projects. We would like to support your professional development or offer you services based on our specialist knowledge and practical experience.
A career at the UKE

We are always looking for highly motivated and qualified applicants who would like to be a part of the UKE family. Our current vacancies can be found here:

Guest Staff and Clinical Elective Students

The UKE offers a range of options for international physicians including advanced training and residency opportunities. Please contact the Human Resources Department for more information.

Researchers

The Faculty of Medicine invites and encourages international researchers and PhD students to collaborate and exchange with members of the UKE. More specific information about our network and potential collaborations can be found here:

Students

If you're a medical student and you would like to complete either one or two semesters of your undergraduate studies or parts of your final year practical training at the Medical Faculty of the University of Hamburg, please contact the Dean's Office.

Patients

The International Office is dedicated to the needs of patients who are not registered residents in Germany and are not covered by a German or European healthcare insurance. Our key responsibilities include all organizational tasks regarding inpatient-treatment at the UKE as well as before and after care.

Healthcare-Management, Consulting (UCM)

Based on the practical know-how of the UKE, the UCM offers a range of services including temporary hospital management, management from strategy to master plan, business organization, process management and much more.

Committee of specialists to support The Faculty of Medicine in international matters

Research funding, technology transfer and clinical studies (MediGate)

MediGate supports UKE researcher and their partners with professional advice on research funding (especially EU), technology transfer and clinical studies. We can also support you in these regards if you want to become an UKE researcher or partner of UKE research.

For further information...