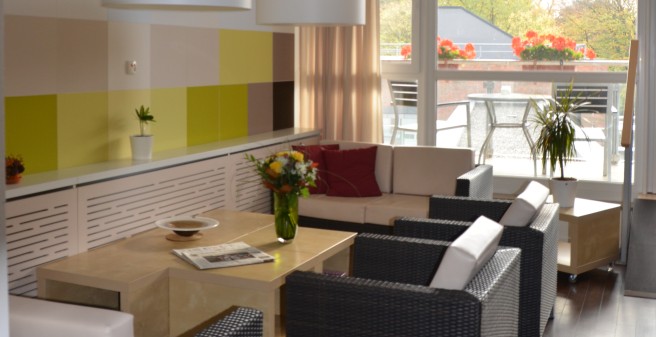 Your stay at the Department of Oncology
Dear patient,
Here you will find some important information about your stay at our clinic.
If you want immidiatly change to pages of the wards click here .
Patients with solid tumors such as lung cancer, gastric- and colorectal cancer, pancreatic cancer, and lymphoma will preferably be treated on the ward C4B (general oncology ward). Patients with malignancies of the bone marrow such as leukemia require special care. Microbiological air- and water filtering systems are provided on the ward C5A (hematology ward). Palliative care will be provided by our specially trained team of doctors and nurses on the palliative ward ( C2B ). The subdivision of pulmonology is located at C3B , and specialized in treating patients with diseases of the respiratory tract. Our private patients are treated on the ward C5B . For more information please check the link to the different wards.
Please note: flowers are not allowed due to hygienic reasons. In order to protect our patients from infections, children under 12 years are not allowed on the wards except for the palliative care unit (C2B). You are welcome to join your family at the patient visiting areas.
Even after your stay on the ward a variety of services are provided by the University Cancer Center Hamburg such as individual follow ups, survivorship programs, alternative medicine, family counseling and a interdisciplinary outpatient clinic for genetic counseling.
Your feedback is important to us. Please participate by filling out our questionnaires at the end of your stay, so we can ensure and optimize the quality of treatment and care.
Regards from the doctors and nurses of our department.