About the library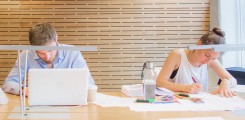 Read and study without interruption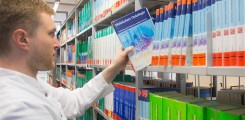 Textbooks can be found on the second floor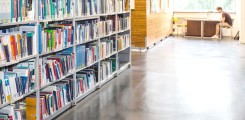 Specialized Books can be found on the third floor
Central Medical Library (ÄZB)
The Central Medical Library is the main special library of the University of Hamburg medical facilities and therefore an important partner in research and education.
We provide the students, doctors, scientists and staff of the University Medical Center Hamburg-Eppendorf with print and electronic media.
As a part of the University of Hamburg library system, the ÄZB is also open to external users.
Come and find the information relevant to you! Research on-site throughout four different floors or on-the-go. The ÄZB provides you access to more than 300,000 printed media and eBooks, 50,000 eJournals and numerous databases.
Use the library to study! There are 240 desks and multiple group study rooms available for you to use, all of which are surrounded by a calm working atmosphere.
We are open Monday through Saturday from 08.00 to 22.00. You can check out and return print media during our opening hours.