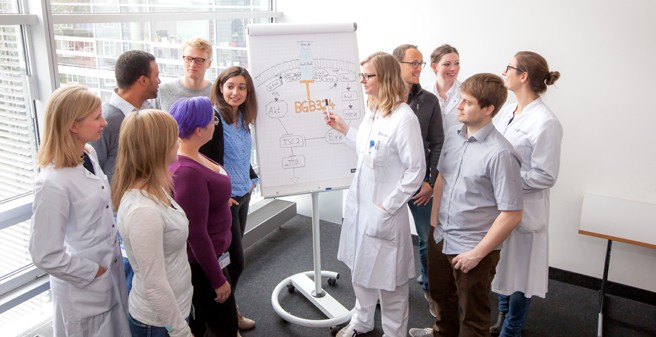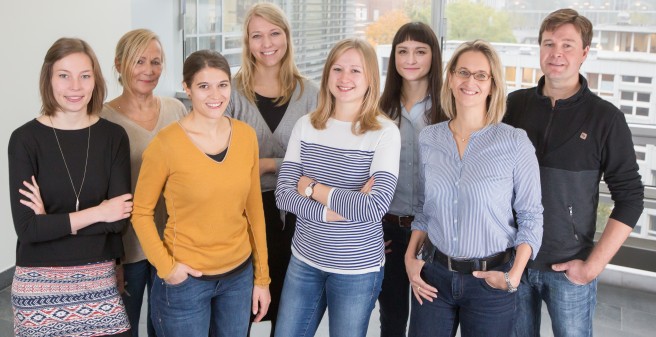 Our Research Groups Introducing Themselves
Group Prof. Dr. Dr. Sonja Loges | Personaliized cancer therapy

Contact
Group Prof. Dr. Dr. Sonja Loges | Personaliized cancer therapy

The group working in the lab

Personalized cancer therapy

Our group is determined to unravel novel mechanisms of tumor-stroma interactions in solid and hematologic malignancies. A central focus of our studies lies on dissecting the cross-talk of tumor cells with bone-marrow-derived cells both at the site of primary tumors and within the bone marrow.

Prof. Dr. Dr. Sonja Loges, group leader

Thereby, we aim at identifying novel targets potentially useful to improve anti-cancer therapies alone and in conjunction with established therapies. Subsequently these targets are translated to clinical samples in order to determine their relevance for human disease. Our ultimate goal is to develop better therapies to treat cancer patients.
Group Prof. Dr. Harriet Wikman | Metastasis-associated genes

Contact
Group Prof. Dr. Harriet Wikman | Metastasis-associated genes

Identification and functional characterization of metastasis-associated genes in breast and lung cancer

The main research interest of our group is to understand the biology behind the different steps of the metastatic cascade. We are in particular interested in understanding and characterizing the mechanisms that enable early tumor cell dissemination, and to identify genes and pathways important for site specific metastasis in epithelial tumors. Our research focuses mainly on the three main tumor entities, i.e. breast, lung and prostate cancer.

By combining different whole genome screening methods we have identified genes and pathways important for both early lung and breast cancer tumor dissemination (Wrage et al., Clin Cancer Res 2009 and Int J Cancer 2015; Werner, Cancer Discovery 2015). We are currently performing functional characterization of different proteins, such as RAI2 and HERC5 important especially for the brain and bone metastasis formation (Werner et al., BMC Cancer. 2015; Hohensee et al., Oncotarget 2016). Furthermore, many of our projects focus on characterization and clinical relevance of circulating tumor cells (CTCs) identified in the blood of cancer patients (Hanssen et al., Scientific reports 2016).

We are using both patient derived material as well as cell-culture based model systems. In our research we therefore use a combination of many different genetic, biochemical and cellular analyses as well as functional genomics approaches (such as shRNA-mediated gene silencing) to understand the processes driving metastasis.

We are a group consisting of biologists and biochemists (master and PhD students and post docs), medical PhD students and a technician.
Group Dr. Volker Assmann | Identification of tumor-asociated genes

Contact
Group Dr. Volker Assmann | Identification of tumor-asociated genes

Identification, structural and functional characterisation of tumor-associated genes

Aim of our studies is the identification, structural and functional characterisation of genes possibly involved in breast cancer development and progression. Using genetic screens ("Retrovirus-mediated cDNA expression cloning of proto-oncogenes") we identified several largely uncharacterised breast cancer candidate genes, which form a major focus of our research. To evaluate the pathophysiological relevance of our candidate genes, a wide range of molecular, biochemical, cell biology and immunological techniques is employed.

By combining breast cancer gene expression analysis in primary and metastatic lesions using our in-house developed antibodies with detailed functional studies, we aim to contribute to a better understanding of the molecular changes underlying breast cancer development and progression. Hopefully, this work also could lead to the development of innovative therapeutic approaches for the treatment of breast cancer patients in the future.
Dr. rer. nat.

Volker Aßmann

Location

---

Campus Forschung N27 , 4th Floor, Room number 04.007
Group PD Dr. Katharina Harms-Effenberger | CTC/DTC | Pancreatic & eophagus carcinoma

Contact
Group PD Dr. Katharina Harms-Effenberger | CTC/DTC | Pancreatic & eophagus carcinoma

Group Katharina Harms-Effenberger

CTC/DTC detection and characterisation: pancreatic and esophagus carcinoma

In cooperation with the Department of General, Visceral and Thoracic Surgery at UKE our working group is focussed on disseminated tumor cells in bone marrow (DTC) as well as circulating tumor cells in peripheral blood (CTC) of patients with pancreatic, esophageal and lung cancer. DTC and also CTC are of prognostic relevance in many solid tumor entities, as for example breast cancer, and serve as prognostic markers for early metastatic relapse and reduced survival in these patients.

Our goal is the improvement of appropriate DTC and CTC detection platforms for the above mentioned tumor types. Based on immunomagnetic and immunocytochemical methods different enrichment protocols as well as detection systems are compared. Once DTC/CTC are detected molecular single cell characterisation shall identify potential therapeutic targets to finally antagonize metastatic disease progression.
Priv.-Doz. Dr. rer. nat.

Katharina Harms-Effenberger
Group PD Dr. Sabine Riethdorf | Micrometastasis

Contact
Group PD Dr. Sabine Riethdorf | Micrometastasis

Micrometastasis

Our research activities are aimed to unravel mechanisms contributing to the dissemination of single potentially metastasis-initiating cells from tumor tissues. Optimized high-resolution immunocytologic and molecular approaches are applied to detect and characterize disseminated and circulating tumor cells (DTC, CTC) in bone marrow, lymph nodes and blood of patients with mainly urologic, gynecologic and head and neck carcinomas as well as glioblastomas. Our main activities are directed to analyze potential therapeutic target structures in DTC and CTC as well as in experimental model systems as basis for the testing and development of new individual targeting treatment strategies.

With translational research projects aimed to substantiate the prognostic relevance of circulating tumor cells as well as to test the suitability of CTC as biomarker for the stratification of patients for targeting therapies, our group participates in several clinical studies. In this context the group is one of the reference centers for the evaluation of CTC in the breast cancer studies DETECT III-V and TREAT-CTC (search at the website for study number "90091"). Here, the decision to treat the breast cancer patients with a particular therapy already is based on the presence of CTC.
Priv.-Doz. Dr. rer. nat.

Sabine Riethdorf

Location

---

Campus Forschung N27 , 4th Floor, Room number 04.007
Group PD Dr. Heidi Schwarzenbach | Circulating nucleid acids

Contact
Group PD Dr. Heidi Schwarzenbach | Circulating nucleid acids

Circulating nucleic acids

Detection of circulating, cell-free nucleic acids (DNA, RNA and microRNAs) in the peripheral blood of cancer patients has opened up new possibilities of looking into the biological behavior of the primary tumor and metastases, and may help to understand the pathogenesis of cancer. The rapidly increased nucleic acids accumulation in blood during tumor development is mainly caused by apoptotic and necrotic cells. Please see the following figure illustrating this process:

In addition, active secretion by exosomes has also been demonstrated, and it is especially relevant for the release of microRNAs. Exosomes are prominent membrane vesicles, because they can act as mediators of cell-to-cell signaling, to transfer their cargo of nucleic acids between cells. Due to the biological functions and the possibility of analyzing nucleic acids in patient´s blood in real-time, these liquid biopsies may be a new promising class of potential blood-based tumor markers, whose clinical relevance is evaluated at my laboratory.In this regard, we investigate genetic (allelic losses, mutations) and epigenetic (DNA methylation) alterations in cell-free DNA of patients with different cancer types.

Particularly, we quantify the deregulated levels of cell-free and exosomal microRNAs, small non-coding RNA molecules that repress the translation of their target mRNAs. Quantitative testing and screening of plasma/serum DNA and microRNAs has provided information on genetic and epigenetic profiles associated with cancer development, progression and response to therapy. Thus, their molecular characterization can reveal important tumor characteristics relevant to the choice of targeted therapies in individual cancer patients.