Palliative consultation hour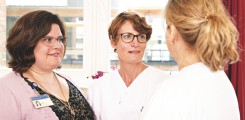 Consulting, planning and support
The Palliative medicine consultation hour offers medical and psychosocial counselling for patients with incurable, progressive diseases and their relatives.
The provision of optimal patient care also outside our ward is ensured in cooperation with general practitioners and specialists, nursing services and specialised outpatient palliative care providers.
Our tasks and offers include:
Mediation of internal psychosocial services: psycho-oncology, pastoral care, social service,
art and music therapy
Introduction of supporting measures through nutritional counselling and physiotherapy
Outpatient care of former inpatients to maintain symptom control
Planning and coordination of the statistic admission to our palliative care unit
Counselling of patients and relatives regarding palliative medical care in outpatient care
and the stationary area
Early preparation and planning of treatment in the palliative situation
Continued care of oncological patients after palliative chemotherapy or during therapy breaks
Mediation of external counselling services: hospice services, mourning groups, self-help groups
Advice on living wills, powers of attorney and precautionary measures
Symptom control and relief in cases of shortness of breath, nausea, loss of appetite or anxiety
Pain therapy in close cooperation with the pain team of anesthesiology
The palliative medical consultation is part of the life with tumor consultation hours.
The brochure gives you further information (in German).