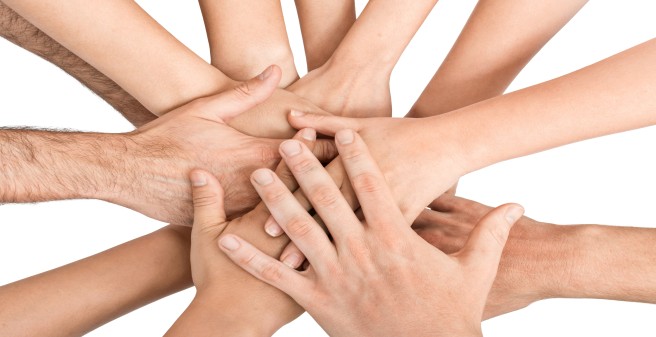 Patient support groups
The diagnosis cancer is an existential threat for many patients, with which they are usually suddenly confronted and which changes their lives completely. "How to go on?", is an often wondered question after the diagnosis. Patient support groups offer (not only) in this situation consultation and guidance for patients and their relatives. You can profit from the experiences of other affected persons and gather helpful information and support on how to plan the next steps.
In the 2009 resolution of the cancer self-help organization "Psycho-social support for humans with cancer" (Psychosoziale Unterstützung für Menschen mit Krebs) it is written down: The supporting services of self-help groups shall be integrated into therapy after the diagnosis. Especially conversation with trained and also affected workers from self-help organizations as well as authentic and patient-oriented information in word and writing on living with the disease and maybe any handicaps are useful.
As Hubertus Wald Tumor Center – University Cancer Center (UCCH) we take it for granted to support our patients in getting involved with patient self-help groups. The contact information about patient support groups cooperating with the UCCH and supra-regional one can be found at the bottom of this page.
You can find a selection of brochures and information material of Hamburg- and Schleswig-Holstein-based patient support groups in our waiting rooms in the oncological outpatient clinic and our UCCH Central Entry Port. Because the self-help groups matter to us, we support them with specialized offers and assist them with their projects and events.
Conversation and group management training

Dr. phil. Frank Schulz-Kindermann, head of the outpatient clinic at the Institute for Medical Psychology, offers in regular intervals a communication training for self-help group leaders, in which they can learn how to deal with burdening situations or "special" members, train group leading and group dynamics as well as to handle hope, sadness and uncertainty and practice situations in role plays.

Patient support group room at the UCCH

For meetings of our cooperating patient support groups the UCCH offers a room at fixed times at the University Medical Center Hamburg-Eppendorf in building O24 next to the UCCH Central Entry Port.

Joint projects with patient support groups

We also offer our support to patient self-help groups in organizing their own projects: e.g. we assist in event planning, provide locations on the clinic campus if possible or our healthcare professionals give talks and presentations. If you have any idea for a joint project, feel free to contact us, and we will together think through on how to realize it.

List of cooperating patient support groups
Head
PD Dr. med. Andreas Block, MBA
Avin Hell, Communication Manager
For more information on the range of services offered by the self-help groups, please contact: