LARGE PUBLIC-PRIVATE CONSORTIUM
The ELBS is a dynamic network consisting of partners from academia and industry with the common goal of bringing LB tests into clinical routine. The network covers all relevant areas to reach this goal, ranging from harmonization of technologies, to the design of suitable clinical studies, and the interaction with regulatory bodies. The combination of the collective expertize and knowledge of the ELBS members with the strategic implementation of joint projects makes the ELBS a uniquely suited driver and valuable partner in the area of LB.
CONSORTIUM SIZE AND DIVERSITY
The ELBS network currently consists of more than 70 member institutions with more joining each year. About two thirds of our members are academic institutions or university hospitals; one third represent industry partners spread across biotech, device manufacturers, diagnostic companies, standard providers and pharmaceutical companies. The ELBS member institutions also span three continents (Asia, Europe, USA), the majority of members being located in Europe.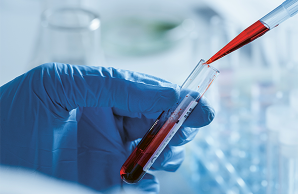 HARMONIZATION AND STANDARDIZATION
In order to work towards robust LB tests that are applicable in a clinical setting, standardization and harmonization of preanalytical as well as analytical parameters are essential. One valuable approach to achieve such harmonization is the formulation of specific guidelines. Another is performing actual wet lab work including ring experiments and technology benchmarking. The ELBS includes both complementary approaches in its activity profile.
COMPLEMENTARY FOCUS AREAS BY DIFFERENT WORKING GROUPS
In order to move the field of LB forward and in line with our holistic approach, the ELBS consists of distinct working groups that combine specific areas of expertize. The working groups (WGs) are Dissemination & Education, Clinical, Technology, and Regulatory Issues. Each WG is chaired by a steering committee of 2 – 4 members that drive the activity of the network in their specific area of expertize. More information on the WGs can be found under the respective links below.
WORKING GROUPS
WORK GROUP DISSEMINATION & EDUCATION

The goal of the Education & Dissemination WG is to build a strong and interconnected network with all essential players on board.

This is achieved by:

Establishing connections to other scientific societies and initiatives in the liquid biopsy space

Generating awareness of liquid biopsy applications for researchers, clinicians and others

Increasing knowledge in relevant areas of the LB field (through workshops, white papers, etc.)

Online representation



LEADS

WORK GROUP CLINICAL

The goal of the Clinical WG is to translate clinical insights on liquid biopsy applications into clinical utility.

This is achieved by:

Identification of urgent clinical needs (markers and assays)

Identification of relevant projects from a clinical perspective

Providing guidance and a clinical perspective for the other WGs

Defining good practice criteria for inclusion of LB in clinical trials

Revising and designing "ELBS approved" clinical trials in the realm of LB




LEADS

WORK GROUP TECHNOLOGY

The technology working groups are subdivided according to their focus. Currently 3 WGs exist spanning the CTC, ctDNA, and EV fields. The overarching goal of these groups is to identify optimally suited assays for specific scientific and clinical questions and to work towards optimization, harmonization and standardization of these methods.

Activities include, but are not limited to:

Benchmarking novel technologies

Establishing and improving SOPs

Organizing ring trials to assess and compare technology proficiency

Educating on limitations, challenges and strengths of existing analytical approaches

Supporting interested labs in standardization and certification processes (e.g. ISO 15189)



LEADS



CTC WORK GROUP: Evi Lianidou, Nikolas Stöcklein and Yong-Jie Lu

ctDNA WORK GROUP: Ellen Heitzer, Ed Schuuring and Patrizio Giacomini

EV WORK GROUP: An Hendrix, Rienk Nieuwland and Franz Ricklefs

WORK GROUP REGULATORY

The regulatory WG pursues the overarching goal of driving implementation and the introduction of liquid biopsy assays into routine clinical practice.

This goal is pursued through:

Acquiring knowledge on regulatory terms and conditions (mainly) in EU countries

Collecting input and expertize from all stakeholders in health care

Exchange with regulatory agencies (e.g. EMA, FDA) and health care providers

Initiation of collective pan-European initiatives to work jointly towards approval and reimbursement of liquid biopsy approaches


LEADS