The Executive Board of the UKE
Prof. Dr.
Burkhard Göke
Medical Director
Chairman
About Prof. Dr. Göke

Prof. Dr. Burkhard Göke was born in 1956 in Wolfsburg (Lower Saxony). Last he was Professor of Internal Medicine and Director of the Medical Clinic and Polyclinic II (focal points gastroenterology, hepatology and metabolic disorder) at the Munich University Hospital (LMU – Ludwig Maximilian University). He studied human medicine at the University of Göttingen until 1982 and obtained his doctorate to become Dr. med. Until 1988, he was Assistant Physician at the University Hospitals of Göttingen and Marburg.

1988, Prof. Göke did his post-doc (habilitated) in internal medicine and became internist approved for the medical fields gastroenterology and endocrinology/diabetology. He was Heisenberg scholarship holder of the German Research Foundation and Professor during his time as Head of a Research Group at Philipps University in Marburg. In 1998, Prof. Göke became Professor in Ordinary and Head Physician at the Inselspital Bern (Switzerland) where he also became Director of the Clinical Research Department and Dean of Research.

In 2000, Prof. Göke was offered to come to Munich, where he was appointed Professor for Internal Medicine at the University Hospital of LMU. 2005, he became Deputy Medical Director. From 2008 until May 2013, he was nonexecutive Medical Director and Chairman of the University Hospital of LMU. He researched in Manchester (England) and in Ann Arbor, Michigan (USA). 2010, he was awarded the prestigious Werner Creutzfeld Prize of the German Diabetes Association. Prof. Dr. Burkhard Göke looks back on over 500 publications.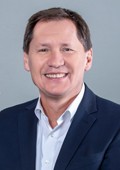 Joachim Prölß
Director of Patient and Care Management
Executive Board
Marya Verdel
Commercial Director
Executive Board
The Executive Board is responsible for the Medical Center and exercises administrative tasks for the Medical Faculty, in particular tasks of business and staff management in accordance with the budget funds and the decisions of the Faculty Board for Medicine. Details are provided by the statute of the UKE in conjunction with § 11 UKEG . The distribution of tasks and competences amoung the Board Members can be seen from the organization chart of the Board.