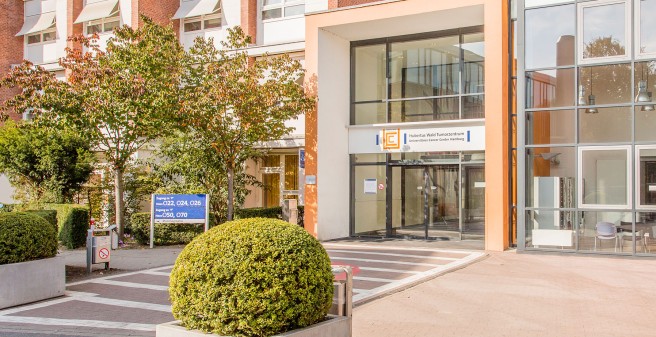 About the clinic
Our team is very skilled in the diagnostics and treatments of all cancer entities. Close cooperation with different departments and institutes of the University Cancer Center Hamburg (UCCH) as well as excellent collaboration with our outpatient doctors offices enable us to provide best possible diagnostics and treatment. Professional quality management, regular certifications and inspections as well as continuous optimization of our procedures help warrant the best patient care.
Our patients are treated in highly specialized hematological and oncological wards . All modern treatment modalities including bone marrow transplantation and high-dose chemotherapy are easily accessible in order to manage even the most complex malignant diseases. Our treatment options are enhanced by a variety of highly innovative procedures within clinical trial procedures. For the treatment within more than 60 recruiting clinical trials at our department, specialized doctors and study coordinators warrant patient safety.
We are aware of the importance of the patient's familiar domestic environment in the process of recovery. Therefore, we provide numerous treatment options in many of our outpatient clinics . This service is further enhanced by our close network partners providing service as outpatient doctor's offices as part of the University Cancer Center Hamburg.
In addition we offer palliative care , checkups and survivorship programs and other services such as alternative medicine and genetic counseling. This applies in particular for those with affected family members at a young age.
We are developing molecularly targeted therapy in order to personalize medicine. In further detail, we selectively alter mechanisms within the cell, that are responsible for growth and tumor cell spreading. These innovative approaches are currently investigated in the treatment of leukemia as well as solid tumors such as lung cancer, colorectal cancer and kidney cancer. You will find additional information in the research section.
As part of the University we are obliged to provide excellent academic training . Several programs for senior fellows, residents, interns and medical students are available also including a well recognized MD PhD program. We like to hear from you. Please mail your comments or questions to: med2-info@uke.de