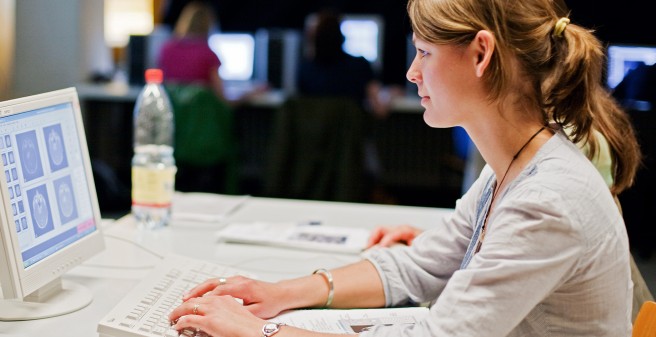 Elective Clinical Rotations in Final Medical School Year ("Praktisches Jahr or PJ") in the II. Medical Clinic
As a medical student in the last clinical year, also known as PJ-ler (Praktisches Jahr), in the II. Medical Clinic, you can participate in all non-invasive and invasive diagnostic procedures, attend the tumor boards and internal conferences of the department so you will be exposed to and learn decision-making processes in medicine. On the oncological ward, you will actively participate in rounds by caring for "your" patients under the supervision of an experienced specialist. We also offer further education through the numerous lectures, Oncology Lunch and Journal Club as well as internal training on the ward. The curriculum is supplemented by an introduction to cytology diagnostics.
The assignment of medical students enrolled at the University of Hamburg in the last clinical year is organized by the I. Medical Clinic ( Mrs. Klatt ). Would you like to spend your clinical year with us? Then please contact and organize an exchange with another student as early as possible and consult the PJ coordinator in internal medicine.
You do not study in Hamburg? Then please contact one our medical school lecturers, Fr. PD Dr. von Amsberg or Fr. Prof. Dr. Oechsle , at the II. Medical Clinic of the UKE. We require a free-form application with a letter of motivation and CV.
The term "Practical Year" in the Department of Oncology at the UKE can be taken quite literally. While oncology is only covered briefly in the medical school curriculum, you have the opportunity to really get to know oncology in all of its medical-scientific range and diversity in practice. Treatment regimes based on the latest scientific studies are on the daily agenda. The ability to work independently, taking care of patients and acquiring of basic skills such as punctures, ultrasonography, and dealing with patients will be taught . In addition students are welcome to tumor conferences and continuing education events. For questions of any kind, there is a great team of experienced colleagues at your side. Later in your career as a doctor, you will always be confronted with oncology cases. With this clinical rotation (PJ-tertial) in Oncology at the UKE, you will be well prepared in such situations.
Tiziana Fuger, PJ-student, December 3, 2015