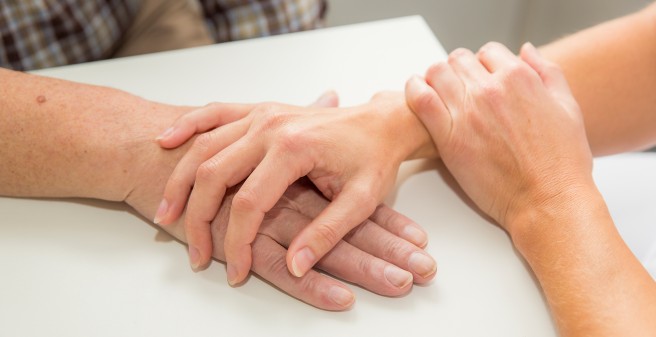 Care at home

Care at home

We support and accompany persons who look or will look after relatives in need of care within the framework of our project ″Family Care". Our patients and their relatives are offered counseling and training in care at the patient's bedside. In this way, relatives get valuable practical tips already during the stay in the UKE (University Medical Center Hamburg-Eppendorf) to offer them the best possible preparation for the new situation at home. Besides, nursing relatives can register for classes and participate in discussion groups. We offer the above mentioned services at no charge!

Hospital pharmacy

The hospital pharmacy in our Medical Center

The hospital pharmacy in the UKE (University Medical Center Hamburg-Eppendorf ) provides patients of our Medical Center with all necessary medicines. Whether you are inpatient or outpatient – the physicians receive the medicines for your therapy or treatment from one source. All staff members working in our hospital pharmacy are employees of the UKE and team up with the physicians and nurses to make sure that your medicines are safe.

Our hospital pharmacy is located in building N19 and not open to the public.

Health care chaplaincy

Health care chaplaincy

A hospital stay breaks one's pattern of life. During this time, there will be many things on our mind. The staff of the health care chaplaincy in the UKE (University Medical Center Hamburg-Eppendorf) will be glad to be there for you and your relatives in such situation.

Hospital bracelet

Your personal bracelet provides safety!

On registration as inpatient at the UKE (University Medical Center Hamburg-Eppendorf), you will receive your personal hospital bracelet with all important information on your person, such as name, date of birth and individual patient number. The personal hospital bracelet is your personal ID in the UKE and is for your own safety. Using this bracelet our staff members can e. g. check whether the right patient will be treated in the right way at the right time. Therefore, please do not remove your personal hospital bracelet during the entire stay in the UKE to make sure that your treatment process will run as smoothly as possible. If you are a parent or caregiver of a patient, please make sure that the patient always wears the personal hospital bracelet. If you have lost your personal hospital bracelet, please contact the attending nursing staff. You will then receive a new personal hospital bracelet.

Psychological support

Psychological support

The UKE (University Medical Center Hamburg-Eppendorf) offers special services relating to psychological support for patients suffering from serious diseases. These special services include care and advice during crises, support in the use of own capabilities, relaxation and imagination trainings, therapy to overcome fears and music and art therapy. The interventions may take place on a one-to-one basis or in group settings. We also offer services for certain groups, such as communication training for couples or special services for parents.

Self-help groups

Self-help groups

Self-help groups can be a crucial support when coping with a disease. The Kontakt- und Informationsstelle für Selbsthilfegruppen KISS (Center For Information and Contact For Self-Help Groups KISS) will inform you about self-help groups available in Hamburg.

Please contact the KISS-Self-Help Telephone Service on this, and look up details on the KISS homepage .

Social services

Our social service provides help

Our social service will provide advice and assistance to you, if a disease changes your life in such a way that you are unable to cope with your job and everyday life anymore. Do you have questions concerning the possibilities of home care or rehabilitative measures after your hospital stay? You and the social service staff will jointly initiate the necessary steps to find the solution which will best meet your requirements. Your relatives and other persons of trust will also be most welcome.

During your stay in the UKE (University Medical Center Hamburg-Eppendorf), please contact, if necessary, an attending nurse right from the start, and make an appointment with our social service!

Support offered by the social service

The social service can support you to handle the following:

rehabilitation after your hospital stay

nursing care and caretaking in your home or inpatient facilities

issues with authorities, facilities and funding organizations

liaise with information centers and self-help groups

provide assistance concerning psychosocial issues which are illness-related

concerns of seriously disabled persons and workplace issues

conditions for discharge such as legal care or health care proxy

You find further information on our subpage "social services"