News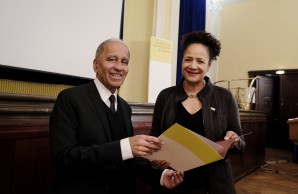 Copyright: AdWHH / Jann Wilken
Marylyn Addo has been elected as a new member of the Academy of Sciences in Hamburg
The eight new members were officially welcomed at the Academy's annual public celebration in Hamburg on November 17, 2023 ( Link ). The picture shows Prof. Dr. Mojib Latif, President of the Academy, handing over the membership certificate to Marylyn Addo.
The Hamburg Parliament founded the Academy of Sciences in Hamburg in 2004 in order to intensify research across disciplinary and institutional boundaries and to increase the visibility of the scientific region of northern Germany. Renowned scientists from northern Germany are involved in the academy. The academy was conceived as a workplace. Its members develop interdisciplinary research topics in working groups and project groups. These projects deal with important social issues and fundamental scientific problems. In addition, the Academy promotes discussion between science and the public on these topics.
2023-11-18
The IIRVD welcomes its new members
In October, the IIRVD is pleased to welcome four new scientists.
Valentin Bärreiter is embarking on his PhD thesis, while Toni Louise Meister joins as Senior Postdoc with the DZIF-funded position in the research area of "Emerging Infections".
Mascha Binder from the Universitätsspital Basel, Switzerland and Christoph Lange from the Research Center Borstel are visiting scholars who will work closely with the IIRVD in the future.
The IIRVD extends a warm welcome to the new staff members and values their highly qualified support.

2023-10-10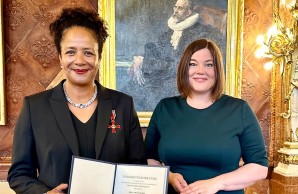 Marylyn Addo receives Federal Cross of Merit
Picture: © BWFGB
Marylyn Addo receives Federal Cross of Merit
Prof. Addo was awarded the Federal Cross of Merit with Ribbon for her outstanding medical and scientific achievements in the research of infectious diseases such as HIV, Ebola and Covid-19 as well as for her dedicated social commitment.
Marylyn Addo received the award from Science Senator Katharina Fegebank on August 25, 2023 in recognition of her achievements. In her speech, Prof. Addo explained that she was accepting the order on behalf of all those who made important contributions to care and medical services during the pandemic, as well as now, and for scientists in a variety of disciplines.

2023-08-23
IIRVD Summer Team Event
In summery temperatures the IIRVD spent a great afternoon in the Kletterwald Hamburg.
Everyone mastered their personal challenge and had their own personal sense of achievement.
It was a lot of fun for everyone, whether on the ground or in the trees.
2023-07-11
Congratulations, Dr. Weskamm!
Leonie Marie Weskamm has successfully defended her doctoral thesis entitled: "Characterization of B cell and antibody responses induced by vaccination against the human coronaviruses MERS-CoV and SARS-CoV-2".
We sincerely congratulate her on her success.
Publication List L. M. Weskamm





2023-07-07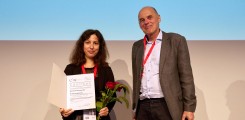 Anahita Fathi wins Meta-Alexander-Prize 2023
Anahita Fathi wins the Meta-Alexander Prize for Clinical Infection Research
This year's 2023 Meta-Alexander Prize for Clinical Infection Research was awarded to Dr. Anahita Fathi for her work "Increased neutralization and IgG epitope identification after MVA-MERS-S booster vaccination against Middle East respiratory syndrom" published in Nature Communications.
This science prize of the German Society of Infectious Diseases ( DGI ) Prize was awarded during the 16th Congress of Infectious Diseases and Tropical Medicine in Leipzig.
Original publication:
Fathi, A., Dahlke, C., Krähling, V. et al. Increased neutralization and IgG epitope identification after MVA-MERS-S booster vaccination against Middle East respiratory syndrome. Nat Commun 13, 4182 (2022). Open access

This year, the Meta-Alexander-Prize was split between two winners.
Picture: Photographer Tom Dachs/ Copyright: @Tom Dachs/KIT2023
2023-06-26
HafenCity Run 2023
On June 3, 2023, the motivated team "GO VIRAL" of the IIRVD participated in the HafenCity Run. The HafenCity Run combines sports, team spirit and charity in one event.
With its participation, the IIRVD supports the charitable projects of the charity partner Hamburger Abendblatt hilft e.V..

2023-06-03
Diversity-Tag 2023
The IIRVD also wants to set a sign for more diversity. By wearing different socks, we jointly set a sign for diversity in society and in the working world.




2023-05-23
World Immunization Week 2023
Interview with Prof. Dr. Addo on protection through vaccination
On the occasion of the World Immunization Week 2023 initiated by the WHO, Prof. Dr. Marylyn Addo explains which infectious diseases children and adults should be vaccinated against, whether vaccinations missed due to the pandemic can be catched up for and which vaccines her institute is currently investigating. (Video in German)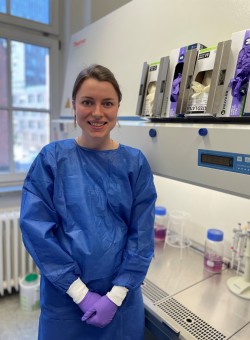 Leonie Mayer on her motivation to research vaccines.
Leonie Mayer, a doctoral student in natural sciences at the IIRVD, talks about her research at the institute in an Instagram post.Her doctoral research involves examining samples from the institute's clinical trials to find out how immune responses follow vaccinations. With her research findings, she hopes to help improve vaccines and help as many people as possible.
Link to videos.


2023-04-28
New publication on flow cytometric characterization of memory B cells directed against SARS-CoV-2 spike proteins.
Memory B cells (MBCs), part of the immune response elicited by infection or vaccination, can persist in lymphoid organs and peripheral blood and are capable of rapid reactivation upon secondary antigen exposure. Here, we describe a flow cytometric assay to identify SARS-CoV-2 spike-specific MBCs from peripheral blood mononuclear cells and characterize their isotypes and activation status.
Leonie M. Weskamm, Christine Dahlke, Marylyn M. Addo. Flow cytometric protocol to characterize human memory B cells directed against SARS-CoV-2 spike protein antigens. STAR Protocols 2022 Dec 16; 4(3):101902. doi: 10.1016/j.xpro.2022.101902
Contact Leonie Marie Weskamm
15.12.2022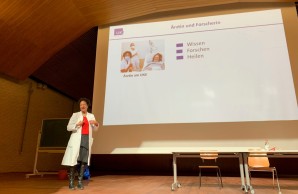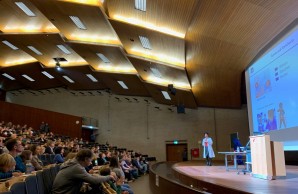 Why does a small injection helps against infectious diseases?
On November 14, 2022, Prof. Addo gave a presentation at the "Kinder-Uni Hamburg" ( Link ).
In her lecture, Prof. Addo explained to the young audience why certain infectious diseases can spread quickly around the world, how these diseases are treated and how vaccines can help. She also gave tips on what everyone can do to protect themselves from viruses.
Further information on the Kinder-Uni Hamburg can be found here .

12.12.2022
New publication on the B and T cell responses elicited by the MVA-MERS-S vaccine candidate

Weskamm et al. longitudinally describe B and T cell responses as well as antibody subclasses and neutralization capacity induced by three homologous immunizations with the MVA-MERS-S vaccine candidate.
The Middle East Respiratory Syndrome (MERS) is a respiratory disease caused by MERS coronavirus (MERS-CoV). In follow-up to a phase 1 trial , we perform a longitudinal analysis of immune responses following immunization with the Modified Vaccinia virus Ankara (MVA)-based vaccine MVA-MERS-S encoding the MERS-CoV-spike protein. Three homologous immunizations were administered on days 0 and 28 with a late booster vaccination at 12±4 months. Antibody isotypes, subclasses and neutralization capacity as well as T and B cell responses were monitored over a period of three years using standard and bead-based ELISA, PRNT50, ELISpot and flowcytometry. The late booster immunization significantly increases frequency and persistence of spike-specific B cells, binding IgG1 and neutralizing antibodies, but not T cell responses. Our data highlight the potential of a late boost to enhance long-term antibody and B cell immunity against MERS-CoV. Our findings on the MVA-MERS-S vaccine may be of relevance for COVID-19 vaccination strategies.
Weskamm LM, Fathi A, Raadsen MP, Mykytyn AZ, Koch T, Spohn M, Friedrich M; MVA-MERS-S Study Group, Haagmans BL, Becker S, Sutter G, Dahlke C, Addo MM. Persistence of MERS-CoV-spike-specific B cells and antibodies after late third immunization with the MVA-MERS-S vaccine. Cell Rep Med. 2022 Jul 19;3(7):100685. doi: 10.1016/j.xcrm.2022.100685. Weskamm et al.
Contact Leonie Marie Weskamm
Contact Christine Dahlke
21.07.2022
New publication on the MVA-MERS-S booster vaccination in Nature Communications
Fathi et al. evaluate the safety and immunogenicity of a third vaccination with MVA-MERS-S in a subgroup of trial participants one year after primary immunization Link to vaccine trial . The results show that MVA-MERS-S booster vaccination is safe and well-tolerated. Both binding and neutralizing anti-MERS-CoV antibody titers increase substantially in all participants and exceed maximum titers observed after primary immunization more than 10-fold.
The data by Fathi et al. support the rationale of a booster vaccination with MVA-MERS-S and encourage further investigation in larger trials.

Fathi A, Dahlke C, Krähling V, Kupke A, Okba NMA, Raadsen MP, Heidepriem J, Müller MA, Paris G, Lassen S, Klüver M, Volz A, Koch T, Ly ML, Friedrich M, Fux R, Tscherne A, Kalodimou G, Schmiedel S, Corman VM, Hesterkamp T, Drosten C, Loeffler FF, Haagmans BL, Sutter G, Becker S, Addo MM. Increased neutralization and IgG epitope identification after MVA-MERS-S booster vaccination against Middle East respiratory syndrome. Nat Commun. 2022 Jul 19;13(1):4182. doi: 10.1038/s41467-022-31557-0 Fathi et al.
Contact Anahita Fathi, Clinician Scientist
20.07.2022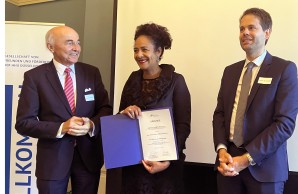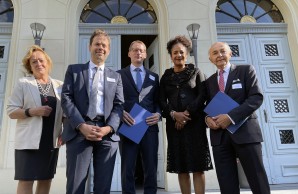 Prof. Dr. Addo honored for HIV research
Prof. Dr. Marylyn Addo, Director of the Institute for Infection Research and Vaccine Development, has been awarded the Heinz Ansmann Prize for AIDS Research 2022. The Heinz Ansmann foundation honored her work on immune control of HIV infection and transfer of knowledge to other viral diseases with pandemic potential. Prof. Dr. Addo accepted the 10,000 euro prize on June 13, 2022 at Schloss Mickeln in Düsseldorf. Prof. Florian Klein from Cologne was awarded the 2020 Price the same day.

13.06.2022