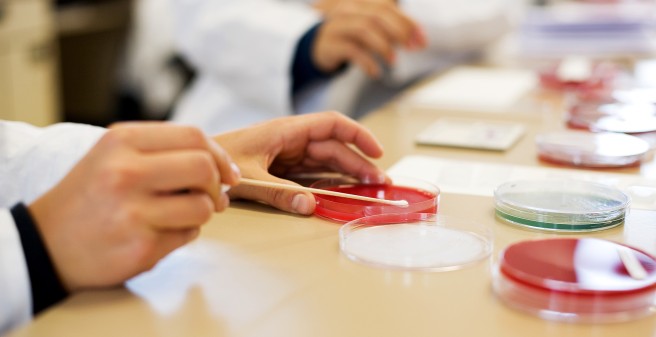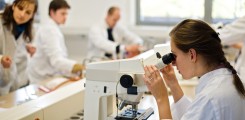 The UCCH offers numerous scientific training opportunities
Scientific Training at UCCH
The numerous laboratories and medical departments of the University Cancer Center Hamburg (UCCH) provide a wealth of training opportunities for medical and science graduate students, early-career physicians, postdoctoral fellows and technical specialists.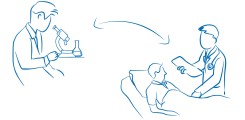 Translational cancer research for UCCH junior scientists
Hamburg School of Oncology
The "Hamburg School of Oncology" offers training measures for UCCH early-career scientists (students and doctoral students of life sciences or medicine, postdoctoral fellows and junior physicians) who are particularly interested in translational cancer research. The various modules offered by the "Hamburg School of Oncology" provide young researchers with a better understanding of translational science and with impulses for possible adaptions of their own current or future research for maximum clinical impact.
Furthermore participation in the modules offered by the "Hamburg School of Oncology" is a great opportunity to widen one's horizon and to network with researchers and clinicians in the field of translational cancer medicine. The modules can be attended concomitantly to one's regular lab work. As participation is limited in most of the modules registration is mandatory. Please scroll down for all further details (curriculum, registration process, certification).
Contact:
Dr. Natascha Kömm ( +49 (0) 40 7410 - 57932 , n.koemm@uke.de )
Curriculum
Registration
Details on the registration process

Registration

Please send your registration via e-mail to n.koemm@uke.de in English or German. Your registration e-mail should include the following information:


Which module(s) do you wish to register for? (It is possible to select a single module or to attend a selection of modules.)
For the modules "Clinic Visits" and "Lab Rotations": Please choose a department/lab that you wish to visit
Your full name and title
Your affiliation (department) and position (PhD student, PostDoc, etc.)
Your contact data (phone number and e-mail address)
The name of your PI
For the module "Clinic Visits": A brief declaration that you received a Hepatitis B vaccination
Certification
Details on certification

Certification

Confirmations of participation in the modules offered by the "Hamburg School of Oncology" are issued on request only. If you wish to have your participation in one or several modules confirmed, you may contact Dr. Natascha Kömm via e-mail ( n.koemm@uke.de ).
Further information on training and continuing education opportunities such as the annual UCCH Research Retreat and the UCCH seminar series "Topics in Cancer Research" (topCaRe) is available on the following website: