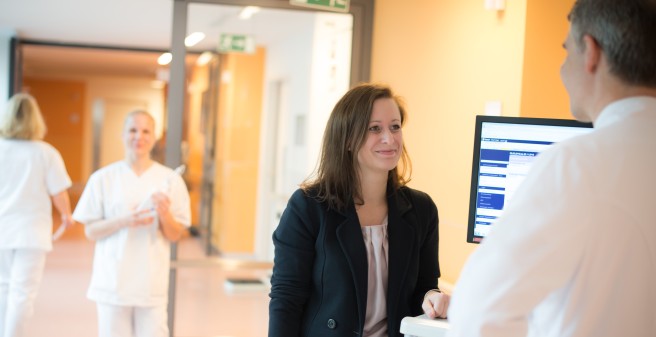 Welcome to the Careers Homepage of the University Medical Center Hamburg-Eppendorf (UKE)
The UKE is one of Europe´s most modern clinics and is known for offering excellent career opportunities. Let us convince you that we can offer you the best prospects for your career!
There are many reasons why the UKE is held in such high regard by its employees. We are a cosmopolitan and multi-cultural employer and a signatory of the Corporate Charter of Diversity for Germany and fully support its aims. Our campus is in the center of Hamburg's Eppendorf neighborhood that is "a city within a city" with many restaurants and beautiful green open spaces.
How We Work
Because our employees possess expertise in all manner of occupations, we achieve our best results working as a team. A mutual respectful and appreciative manner in the workplace is very important to us.
We attach great importance to open and fair dealings with our patients – only by adhering to such values can cooperation be effective and successful for all sides.
Get to know some of our approximately 10,000 employees and hear first-hand what it is like to work at the UKE.
Find out more about current employment offers (in German)
International Guests