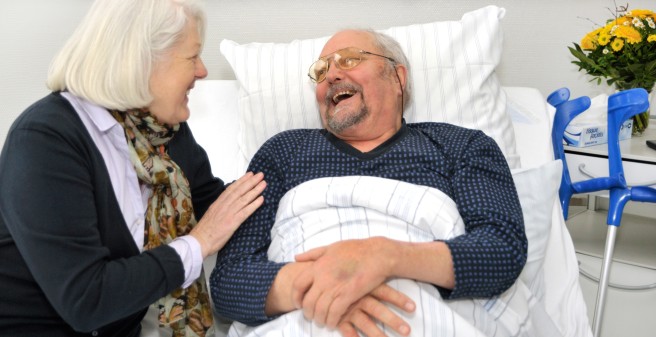 Our Success Is Patient Satisfaction
This motto takes a central position in UKE's corporate vision and shows that patient satisfaction is a central element of quality for the University Medical Center Hamburg-Eppendorf (UKE).
However, in order to know how satisfied our patients are with their treatment and care at the UKE and what experiences they had during their stay, we rely on feedback. Besides Praise and Complaint Management, in which all concerns of patients are processed on an individual basis, systematic patient surveys are of particular importance.
On one hand, patient surveys provide important hints for internal quality improvements, but they may also be used to support patients in the choice of hospital they would like to be treated at. This requires uniform, standardized questionnaires. The results are presented in a comparative manner on online portals such as Qualitätskliniken.de, the White List (in German: "Weisse Liste"), or the Hamburg Hospital Guide. Dieser Satz steht an zentraler Stelle im UKE-Konzernleitbild und zeigt, dass Patientenzufriedenheit für das UKE ein zentrales Element von Qualität ist.
Continual Patient Survey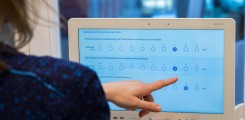 Feedback at One's Fingertips": In 2012, this was the motto for an innovative, continual online survey via patient terminals at the UKE. In more than 40 wards, patients were given the opportunity to provide feedback about their experiences during their stay at the hospital. Now, more than 2,000 responses are received every quarter.
All participating wards receive a quarterly, detailed result report. Thus, it is possible to specifically and quickly present improvement potentials from the point of view of patients and to initiate changes at the precise point where they are needed. Moreover, this allows for checking the success of the measures taken.
Questions asked in the survey concern the areas of nursing, medical service, information, waiting times, cleanliness and hygiene, as well as meals and the overall satisfaction of the patient. The surveys are available in German, Turkish and English.
In June of 2013, the Continual Patient Survey was awarded the audience award at the 4th Forum for Quality Clinics.