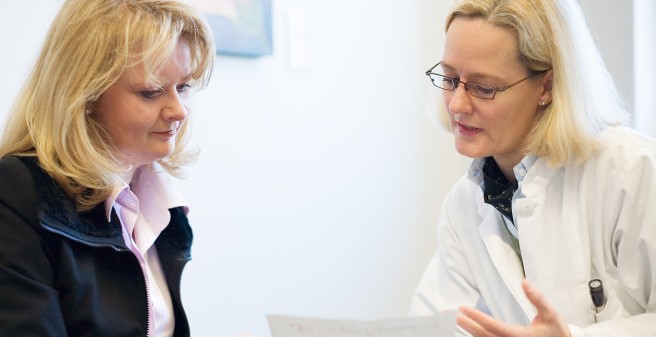 Clinical cancer prevention
Here you can find an overview of our different services regarding cancer prevention at the UKE:
Hereditary tumor consultation hour

Studies on cancer prevention

SAPHIR – Study for relatives of cancer patients for preventing colorectal carcinoma

Colorectal carcinomas are the second most common form of cancer in the Western world for both women and men. The prognosis is substantially correlating with the disease stage. Especially relatives with a high risk for this disease are endangered with prevention-avers behavior. The risk of developing the same tumor, when having a family history of colorectal cancer, is two to four times higher.

Regular colonoscopy screening is the most effective form of prevention, even though the acceptance of this method is only around 20 percent in Germany. An interventional study for optimizing prevention behavior is explicitly meaningful to first-degree relatives of colorectal cancer patients. Supported by the Hamburg Cancer Registry, the research project explores the potential of educating first-degree relatives in order to significantly improve their prevention behavior. Acceptance and reasons for going and not going to a regular colonoscopy screening are analyzed within the targeted population.

The aimed solution is to equip a certain group of these high risks with the necessary competence and motivation in order to communicate their prevention knowledge to others. Furthermore, the project shall show the economic benefit regarding costs for preventive screenings and self-empowerment contra economical and medical follow-up costs.

Consulting on cancer prevention

Our team is more than happy to answer your questions on cancer prevention in a personal consulting at the Hubertus Wald Tumor Center – University Cancer Center.

On the one hand, our services are aimed at people in whose immediate family environment cancer has already occurred and who are looking for information on how at risk they themselves are. Hereditary tumor consultation hour

On the other hand, the counselling is aimed at those affected (= tertiary prevention) and all people who have or have had cancer. We offer them a personal consultation in order to make use of all possibilities which reduce the risk of a relapse or a new illness. Survivorship consultation hour

At the appointment we kindly ask you to fill in a short survey about your personal information, occupation, life style and cancer history in your family. Afterwards there will be an approx. 30 min consulting with recommendations on how you can reduce your individual cancer risk and which early detection methods and self-investigations are regularly useful to you. You will also receive a check list with the most important recommendations summed up for you. If applicable for your situation, we will advise you to further consulting or medical check-ups for first, second or tertiary cancer prevention.

Survivorship clinic for young adults (AYA)
Cancer prevention programs
Additionally, the UCCH has initiated several cancer prevention programs. Especially pupils and adolescences can already contribute a lot to their own cancer prevention. The UCCH and its cooperation partners have created programs designated to increase prevention. Please find the individuals programs in the drop-down menu.
Non-smoking is cool

"Non-smoking is cool" is a joint project of UKE's II. Department of Medicine and fhe German Center for Addiction Research in Childhood and Adolescence (German abbreviation: DZSKJ) and is part of our UCCH prevention programs.

Since its founding in 2005, more than 80,000 pupils in grade five to seven from Hamburg, Lower Saxony, Schleswig-Holstein, Bremen and Mecklenburg-Western Pomerania attended more than 360 tobacco prevention events. In the two-hour event, pupils get educated about the medical effects of tobacco smoking.

For example a bronchoscopy of a lung cancer patient will be shown and a patient with lung cancer will report on his disease history and his tobacco consumption. He will also answer questions from children and adolescences in the audience.

An evaluation of the events by DZSKJ demonstrates that "Non-smoking is cool" is especially successful for high school students. For children taking part in "Non-smoking is cool" the percentage of new smokers was only 6.4%, which is half of the number in the control group. Therefore, the main goal of tobacco prevention, to avoid starting smoking or at least to delay starting smoking, is successfully achieved. The study shows moreover that "Non-smoking is cool" also reaches high-risk adolescents whose parents or peer group friends smoke.

Sponsors of the interdisciplinary program are the Hamburg Cancer Society, the Northern German working group on bronchial carcinoma, the Budnianer Aid and the German Cancer Aid. There are multiple celebrities from Hamburg engaged in the association "Prevention of nicotine addiction for children and adolescents in Hamburg and surroundings" (in German: "Prävention der Nikotinsucht bei Kindern und Jugendlichen in Hamburg und Umgebung e.V."), like Alexandra von Rehlingen, Monica Lierhaus and Thorsten Schaubrenner. Additionally, the project is supported by the German music band Revolverheld, the comedian Ralf Schmitz, the actors Svenja Beneke und Sky du Mont, the moderators Judith Rakers, Barbara Schöneberger, Markus Lanz and Johannes B. Kerner as well as Hamburg's sports clubs.

Schools, which like to participate in the program can find further information on the following website:

SunPass

Healthy fun in the sun for kids

Protection of the skin is an important part of early child education. The Hamburg Cancer Society (Hamburger Krebsgesellschaft e.V.) founded in cooperation with the Hubertus Wald Tumor Center - University Cancer Center Hamburg the SunPass campaign.

The aim of the project is to take further steps regarding sun protection in kindergarten to

reduce the UV exposure of small children in kindergarten
raise the attention of teachers and parents for the topic
decrease indications for skin cancer in the long-run.

Our physicians of the UKE Department of Dermatology are engaged in trainings for the project.

Please find further information on the website of the Hamburg Cancer Society: SunPass project (In German)


Rowing against cancer

The fundraising regatta "Rowing against cancer" is an initiative of the foundation "Living with cancer" (Stiftung Leben mit Krebs). Since 2005 the regatta takes place nation-wide in Germany in cooperation with local rowing clubs and oncological therapy centers.

In Hamburg the regatta takes place on the Außenalster in the city center supported by the rowing club RG Hansa . Each year up to 60 boats with more than 300 participants are involved. There are also boats by patient teams. Weeks before the event, all participants start to practice with trainers and equipment of RG Hansa. The day of the regatta includes pre-elimination races, the final races in different categories as well as an enjoyable supporting program.