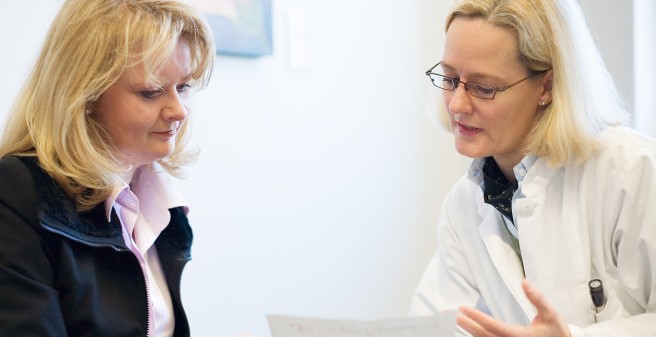 Clinical cancer prevention
Here you can find an overview of our different services regarding cancer prevention at the UKE:
Hereditary tumor consultation hour

Consulting on cancer prevention

Our team is more than happy to answer your questions on cancer prevention in a personal consulting at the Hubertus Wald Tumor Center – University Cancer Center.

On the one hand, our services are aimed at people in whose immediate family environment cancer has already occurred and who are looking for information on how at risk they themselves are. Hereditary tumor consultation hour

On the other hand, the counselling is aimed at those affected (= tertiary prevention) and all people who have or have had cancer. We offer them a personal consultation in order to make use of all possibilities which reduce the risk of a relapse or a new illness. Survivorship consultation hour

At the appointment we kindly ask you to fill in a short survey about your personal information, occupation, life style and cancer history in your family. Afterwards there will be an approx. 30 min consulting with recommendations on how you can reduce your individual cancer risk and which early detection methods and self-investigations are regularly useful to you. You will also receive a check list with the most important recommendations summed up for you. If applicable for your situation, we will advise you to further consulting or medical check-ups for first, second or tertiary cancer prevention.

CARE for CAYA program (15-39 years)
Cancer prevention programs
Additionally, the UCCH has initiated several cancer prevention programs. Especially pupils and adolescences can already contribute a lot to their own cancer prevention. The UCCH and its cooperation partners have created programs designated to increase prevention. Please find the individuals programs in the drop-down menu.