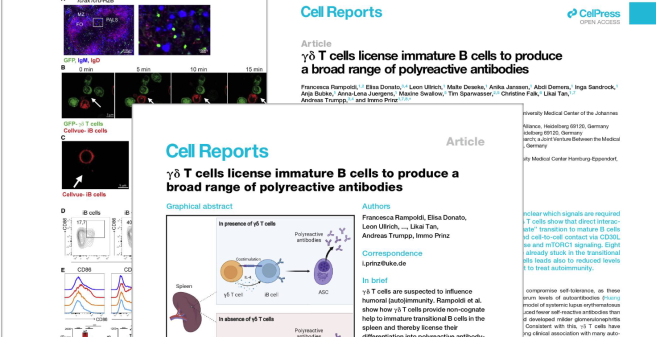 isTab: true
Interleukin-23 receptor expressing γδ T cells locally promote early atherosclerotic lesion formation and plaque necrosis in mice
Gil-Pulido J, Amézaga N, Jorgacevic I, Manthey H, Rösch M, Brand T, Cidlinsky P, Schäfer S, Beilhack A, Saliba A, Lorenz K, Boon L, Prinz I, Waisman A, Korn T, Cochain C, Zernecke A
CARDIOVASC RES. 2021 [Epub ahead of print].
Guidelines for the use of flow cytometry and cell sorting in immunological studies (third edition)
Cossarizza A, Chang H, Radbruch A, Abrignani S, Addo R, Akdis M, Andrä I, Andreata F, Annunziato F, Arranz E, Bacher P, Bari S, Barnaba V, Barros-Martins J, Baumjohann D, Beccaria C, Bernardo D, Boardman D, Borger J, Böttcher C, Brockmann L, Burns M, Busch D, Cameron G, Cammarata I, Cassotta A, Chang Y, Chirdo F, Christakou E, Čičin-Šain L, Cook L, Corbett A, Cornelis R, Cosmi L, Davey M, De Biasi S, De Simone G, Del Zotto G, Delacher M, Di Rosa F, Santo J, Diefenbach A, Dong J, Dörner T, Dress R, Dutertre C, Eckle S, Eede P, Evrard M, Falk C, Feuerer M, Fillatreau S, Fiz-Lopez A, Follo M, Foulds G, Fröbel J, Gagliani N, Galletti G, Gangaev A, Garbi N, Garrote J, Geginat J, Gherardin N, Gibellini L, Ginhoux F, Godfrey D, Gruarin P, Haftmann C, Hansmann L, Harpur C, Hayday A, Heine G, Hernández D, Herrmann M, Hoelsken O, Huang Q, Huber S, Huber J, Huehn J, Hundemer M, Hwang W, Iannacone M, Ivison S, Jäck H, Jani P, Keller B, Kessler N, Ketelaars S, Knop L, Knopf J, Koay H, Kobow K, Kriegsmann K, Kristyanto H, Krueger A, Kuehne J, Kunze-Schumacher H, Kvistborg P, Kwok I, Latorre D, Lenz D, Levings M, Lino A, Liotta F, Long H, Lugli E, MacDonald K, Maggi L, Maini M, Mair F, Manta C, Manz R, Mashreghi M, Mazzoni A, McCluskey J, Mei H, Melchers F, Melzer S, Mielenz D, Monin L, Moretta L, Multhoff G, Muñoz L, Muñoz-Ruiz M, Muscate F, Natalini A, Neumann K, Ng L, Niedobitek A, Niemz J, Almeida L, Notarbartolo S, Ostendorf L, Pallett L, Patel A, Percin G, Peruzzi G, Pinti M, Pockley A, Pracht K, Prinz I, Pujol-Autonell I, Pulvirenti N, Quatrini L, Quinn K, Radbruch H, Rhys H, Rodrigo M, Romagnani C, Saggau C, Sakaguchi S, Sallusto F, Sanderink L, Sandrock I, Schauer C, Scheffold A, Scherer H, Schiemann M, Schildberg F, Schober K, Schoen J, Schuh W, Schüler T, Schulz A, Schulz S, Schulze J, Simonetti S, Singh J, Sitnik K, Stark R, Starossom S, Stehle C, Szelinski F, Tan L, Tarnok A, Tornack J, Tree T, van Beek J, van de Veen W, van Gisbergen K, Vasco C, Verheyden N, von Borstel A, Ward-Hartstonge K, Warnatz K, Waskow C, Wiedemann A, Wilharm A, Wing J, Wirz O, Wittner J, Yang J, Yang J
EUR J IMMUNOL. 2021;51(12):2708-3145.
γδ intraepithelial lymphocytes facilitate pathological epithelial cell shedding via CD103-mediated granzyme release
Hu M, Golovchenko N, Burns G, Nair P, Kelly T, Agos J, Irani M, Soh W, Zeglinski M, Lemenze A, Bonder E, Sandrock I, Prinz I, Granville D, Keely S, Watson A, Edelblum K
GASTROENTEROLOGY. 2021 [Epub ahead of print].
Interleukin-10 improves stroke outcome by controlling the detrimental Interleukin-17A response
Piepke M, Clausen B, Ludewig P, Vienhues J, Bedke T, Javidi E, Rissiek B, Jank L, Brockmann L, Sandrock I, Degenhardt K, Jander A, Roth V, Schädlich I, Prinz I, Flavell R, Kobayashi Y, Renné T, Gerloff C, Huber S, Magnus T, Gelderblom M
J NEUROINFLAMM. 2021;18(1):265.
Clonal expansion of CD8+ T cells reflects graft-versus-leukemia activity and precedes durable remission following DLI
Schultze-Florey C, Kuhlmann L, Raha S, Barros-Martins J, Odak I, Tan L, Xiao Y, Ravens S, Hambach L, Venturini L, Stadler M, Eder M, Thol F, Heuser M, Forster R, Ganser A, Prinz I, Koenecke C
BLOOD ADV. 2021;5(21):4485-4499.
αβ T cells replacing dermal and epidermal γδ T cells in Tcrd-/- mice express an MHC-independent TCR repertoire
Binz C, Bubke A, Sandrock I, Prinz I
EUR J IMMUNOL. 2021;51(11):2618-2632.
Interleukin-23 instructs protective multifunctional CD4 T cell responses after immunization with the Mycobacterium tuberculosis subunit vaccine H1 DDA/TDB independently of interleukin-17A
Ritter K, Behrends J, Erdmann H, Rousseau J, Hölscher A, Volz J, Prinz I, Lindenstrøm T, Hölscher C
J MOL MED. 2021;99(11):1585-1602.
γδ T Cells Differentially Regulate Bone Loss in Periodontitis Models
Barel O, Aizenbud Y, Tabib Y, Jaber Y, Leibovich A, Horev Y, Zubeidat K, Saba Y, Eli-Berchoer L, Heyman O, Wilensky A, Prinz I, Hovav A
J DENT RES. 2021 [Epub ahead of print];220345211042830.
Lack of gamma delta T cells ameliorates inflammatory response after acute intestinal ischemia reperfusion in mice
Funken D, Yu Y, Feng X, Imvised T, Gueler F, Prinz I, Madadi-Sanjani O, Ure B, Kuebler J, Klemann C
SCI REP-UK. 2021;11(1):18628.
The Detrimental Role of Regulatory T Cells in Nonalcoholic Steatohepatitis
Dywicki J, Buitrago-Molina L, Noyan F, Davalos-Misslitz A, Hupa-Breier K, Lieber M, Hapke M, Schlue J, Falk C, Raha S, Prinz I, Koenecke C, Manns M, Wedemeyer H, Hardtke-Wolenski M, Jaeckel E
HEPATOL COMMUN. 2021 [Epub ahead of print].
Monocytes and macrophages in severe COVID-19 - friend, foe or both?
Dress R, Ginhoux F
IMMUNOL CELL BIOL. 2021;99(6):561-564.
A fetal wave of human type 3 effector γδ cells with restricted TCR diversity persists into adulthood
Tan L, Fichtner A, Bruni E, Odak I, Sandrock I, Bubke A, Borchers A, Schultze-Florey C, Koenecke C, Förster R, Jarek M, von Kaisenberg C, Schulz A, Chu X, Zhang B, Li Y, Panzer U, Krebs C, Ravens S, Prinz I
SCI IMMUNOL. 2021;6(58):.
IL-4-Producing Vγ1+/Vδ6+ γδ T Cells Sustain Germinal Center Reactions in Peyer's Patches of Mice
Ullrich L, Lueder Y, Juergens A, Wilharm A, Barros-Martins J, Bubke A, Demera A, Ikuta K, Patzer G, Janssen A, Sandrock I, Prinz I, Rampoldi F
FRONT IMMUNOL. 2021;12:729607.
Letzte Aktualisierung aus dem FIS: 24.01.2022 - 03:31 Uhr