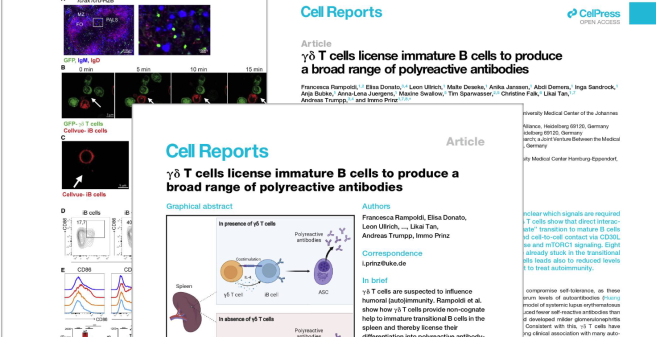 Lymphatic migration of unconventional T cells promotes site-specific immunity in distinct lymph nodes
Ataide M, Knöpper K, Cruz de Casas P, Ugur M, Eickhoff S, Zou M, Shaikh H, Trivedi A, Grafen A, Yang T, Prinz I, Ohlsen K, Gomez de Agüero M, Beilhack A, Huehn J, Gaya M, Saliba A, Gasteiger G, Kastenmüller W
IMMUNITY. 2022;55(10):1813-1828.e9.
Healthy-like CD4+ Regulatory and CD4+ Conventional T-Cell Receptor Repertoires Predict Protection from GVHD Following Donor Lymphocyte Infusion
Schneider J, Kuhlmann L, Xiao Y, Raha S, Bernhardt G, Stadler M, Thol F, Heuser M, Eder M, Ganser A, Ravens S, Förster R, Prinz I, Koenecke C, Schultze-Florey C
INT J MOL SCI. 2022;23(18):.
High-Dose Mycobacterium tuberculosis H37rv Infection in IL-17A- and IL-17A/F-Deficient Mice
Ritter K, Behrends J, Rückerl D, Hölscher A, Volz J, Prinz I, Hölscher C
CELLS-BASEL. 2022;11(18):.
A CMV-induced adaptive human Vδ1+ γδ T cell clone recognizes HLA-DR
Deseke M, Rampoldi F, Sandrock I, Borst E, Böning H, Ssebyatika G, Jürgens C, Plückebaum N, Beck M, Hassan A, Tan L, Demera A, Janssen A, Steinberger P, Koenecke C, Viejo-Borbolla A, Messerle M, Krey T, Prinz I
J EXP MED. 2022;219(9):.
Dopamine Signaling Promotes Tissue-Resident Memory Differentiation of CD8+ T Cells and Antitumor Immunity
Chen Y, Yan S, Pu Z, Feng J, Tan L, Li Y, Hu H, Huang W, Lin Y, Peng Z, He X, Huang F, Zhang H, Zhang Y
CANCER RES. 2022;82(17):3130-3142.
Intrahepatic CD69+Vδ1 T cells re-circulate in the blood of patients with metastatic colorectal cancer and limit tumor progression
Bruni E, Cimino M, Donadon M, Carriero R, Terzoli S, Piazza R, Ravens S, Prinz I, Cazzetta V, Marzano P, Kunderfranco P, Peano C, Soldani C, Franceschini B, Colombo F, Garlanda C, Mantovani A, Torzilli G, Mikulak J, Mavilio D
J IMMUNOTHER CANCER. 2022;10(7):.
γδ T cells license immature B cells to produce a broad range of polyreactive antibodies
Rampoldi F, Donato E, Ullrich L, Deseke M, Janssen A, Demera A, Sandrock I, Bubke A, Juergens A, Swallow M, Sparwasser T, Falk C, Tan L, Trumpp A, Prinz I
CELL REP. 2022;39(8):.
IL-17A-producing γδT cells promote muscle regeneration in a microbiota-dependent manner
Mann A, Hanna B, Muñoz-Rojas A, Sandrock I, Prinz I, Benoist C, Mathis D
J EXP MED. 2022;219(5):.
Three Layers of Intestinal γδ T Cells Talk Different Languages With the Microbiota
Rampoldi F, Prinz I
FRONT IMMUNOL. 2022;13:.
Interleukin-17 is disease promoting in early stages and protective in late stages of experimental periodontitis
Wilharm A, Binz C, Sandrock I, Rampoldi F, Lienenklaus S, Blank E, Winkel A, Demera A, Hovav A, Stiesch M, Prinz I
PLOS ONE. 2022;17(3):.
Guidelines for the use of flow cytometry and cell sorting in immunological studies (third edition)
Cossarizza A, Chang H, Radbruch A, Abrignani S, Addo R, Akdis M, Andrä I, Andreata F, Annunziato F, Arranz E, Bacher P, Bari S, Barnaba V, Barros-Martins J, Baumjohann D, Beccaria C, Bernardo D, Boardman D, Borger J, Böttcher C, Brockmann L, Burns M, Busch D, Cameron G, Cammarata I, Cassotta A, Chang Y, Chirdo F, Christakou E, Čičin-Šain L, Cook L, Corbett A, Cornelis R, Cosmi L, Davey M, De Biasi S, De Simone G, Del Zotto G, Delacher M, Di Rosa F, Santo J, Diefenbach A, Dong J, Dörner T, Dress R, Dutertre C, Eckle S, Eede P, Evrard M, Falk C, Feuerer M, Fillatreau S, Fiz-Lopez A, Follo M, Foulds G, Fröbel J, Gagliani N, Galletti G, Gangaev A, Garbi N, Garrote J, Geginat J, Gherardin N, Gibellini L, Ginhoux F, Godfrey D, Gruarin P, Haftmann C, Hansmann L, Harpur C, Hayday A, Heine G, Hernández D, Herrmann M, Hoelsken O, Huang Q, Huber S, Huber J, Huehn J, Hundemer M, Hwang W, Iannacone M, Ivison S, Jäck H, Jani P, Keller B, Kessler N, Ketelaars S, Knop L, Knopf J, Koay H, Kobow K, Kriegsmann K, Kristyanto H, Krueger A, Kuehne J, Kunze-Schumacher H, Kvistborg P, Kwok I, Latorre D, Lenz D, Levings M, Lino A, Liotta F, Long H, Lugli E, MacDonald K, Maggi L, Maini M, Mair F, Manta C, Manz R, Mashreghi M, Mazzoni A, McCluskey J, Mei H, Melchers F, Melzer S, Mielenz D, Monin L, Moretta L, Multhoff G, Muñoz L, Muñoz-Ruiz M, Muscate F, Natalini A, Neumann K, Ng L, Niedobitek A, Niemz J, Almeida L, Notarbartolo S, Ostendorf L, Pallett L, Patel A, Percin G, Peruzzi G, Pinti M, Pockley A, Pracht K, Prinz I, Pujol-Autonell I, Pulvirenti N, Quatrini L, Quinn K, Radbruch H, Rhys H, Rodrigo M, Romagnani C, Saggau C, Sakaguchi S, Sallusto F, Sanderink L, Sandrock I, Schauer C, Scheffold A, Scherer H, Schiemann M, Schildberg F, Schober K, Schoen J, Schuh W, Schüler T, Schulz A, Schulz S, Schulze J, Simonetti S, Singh J, Sitnik K, Stark R, Starossom S, Stehle C, Szelinski F, Tan L, Tarnok A, Tornack J, Tree T, van Beek J, van de Veen W, van Gisbergen K, Vasco C, Verheyden N, von Borstel A, Ward-Hartstonge K, Warnatz K, Waskow C, Wiedemann A, Wilharm A, Wing J, Wirz O, Wittner J, Yang J, Yang J
EUR J IMMUNOL. 2021;51(12):2708-3145.
Interleukin-10 improves stroke outcome by controlling the detrimental Interleukin-17A response
Piepke M, Clausen B, Ludewig P, Vienhues J, Bedke T, Javidi E, Rissiek B, Jank L, Brockmann L, Sandrock I, Degenhardt K, Jander A, Roth V, Schädlich I, Prinz I, Flavell R, Kobayashi Y, Renné T, Gerloff C, Huber S, Magnus T, Gelderblom M
J NEUROINFLAMM. 2021;18(1):.
Clonal expansion of CD8+ T cells reflects graft-versus-leukemia activity and precedes durable remission following DLI
Schultze-Florey C, Kuhlmann L, Raha S, Barros-Martins J, Odak I, Tan L, Xiao Y, Ravens S, Hambach L, Venturini L, Stadler M, Eder M, Thol F, Heuser M, Forster R, Ganser A, Prinz I, Koenecke C
BLOOD ADV. 2021;5(21):4485-4499.
αβ T cells replacing dermal and epidermal γδ T cells in Tcrd-/- mice express an MHC-independent TCR repertoire
Binz C, Bubke A, Sandrock I, Prinz I
EUR J IMMUNOL. 2021;51(11):2618-2632.
Interleukin-23 instructs protective multifunctional CD4 T cell responses after immunization with the Mycobacterium tuberculosis subunit vaccine H1 DDA/TDB independently of interleukin-17A
Ritter K, Behrends J, Erdmann H, Rousseau J, Hölscher A, Volz J, Prinz I, Lindenstrøm T, Hölscher C
J MOL MED. 2021;99(11):1585-1602.
Lack of gamma delta T cells ameliorates inflammatory response after acute intestinal ischemia reperfusion in mice
Funken D, Yu Y, Feng X, Imvised T, Gueler F, Prinz I, Madadi-Sanjani O, Ure B, Kuebler J, Klemann C
SCI REP-UK. 2021;11(1):18628.
Monocytes and macrophages in severe COVID-19 - friend, foe or both?
Dress R, Ginhoux F
IMMUNOL CELL BIOL. 2021;99(6):561-564.
A fetal wave of human type 3 effector γδ cells with restricted TCR diversity persists into adulthood
Tan L, Fichtner A, Bruni E, Odak I, Sandrock I, Bubke A, Borchers A, Schultze-Florey C, Koenecke C, Förster R, Jarek M, von Kaisenberg C, Schulz A, Chu X, Zhang B, Li Y, Panzer U, Krebs C, Ravens S, Prinz I
SCI IMMUNOL. 2021;6(58):.
IL-4-Producing Vγ1+/Vδ6+ γδ T Cells Sustain Germinal Center Reactions in Peyer's Patches of Mice
Ullrich L, Lueder Y, Juergens A, Wilharm A, Barros-Martins J, Bubke A, Demera A, Ikuta K, Patzer G, Janssen A, Sandrock I, Prinz I, Rampoldi F
FRONT IMMUNOL. 2021;12:.
Letzte Aktualisierung aus dem FIS: 26.11.2022 - 03:52 Uhr