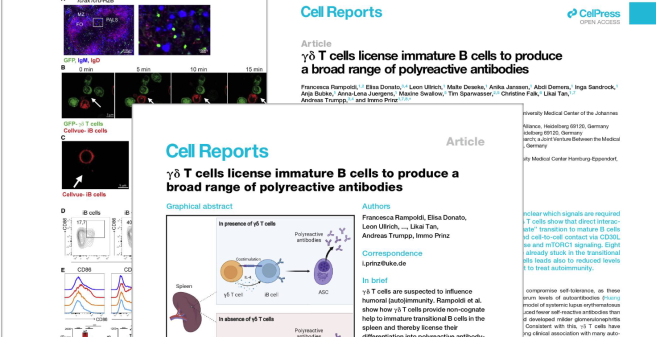 isTab: true
Lack of gamma delta T cells ameliorates inflammatory response after acute intestinal ischemia reperfusion in mice
Funken D, Yu Y, Feng X, Imvised T, Gueler F, Prinz I, Madadi-Sanjani O, Ure B, Kuebler J, Klemann C
SCI REP-UK. 2021;11(1):18628.
Clonal expansion of CD8+ T cells reflects graft-versus-leukemia activity and precedes durable remission following DLI
Schultze-Florey C, Kuhlmann L, Raha S, Barros-Martins J, Odak I, Tan L, Xiao Y, Ravens S, Hambach L, Venturini L, Stadler M, Eder M, Thol F, Heuser M, Forster R, Ganser A, Prinz I, Koenecke C
Blood advances. 2021 [Epub ahead of print].
αβ T cells replacing dermal and epidermal γδ T cells in Tcrd-/- mice express an MHC-independent TCR repertoire
Binz C, Bubke A, Sandrock I, Prinz I
EUR J IMMUNOL. 2021 [Epub ahead of print].
Interleukin-23 instructs protective multifunctional CD4 T cell responses after immunization with the Mycobacterium tuberculosis subunit vaccine H1 DDA/TDB independently of interleukin-17A
Ritter K, Behrends J, Erdmann H, Rousseau J, Hölscher A, Volz J, Prinz I, Lindenstrøm T, Hölscher C
J MOL MED. 2021.
Monocytes and macrophages in severe COVID-19 - friend, foe or both?
Dress R, Ginhoux F
Immunology and Cell Biology. 2021;99(6):561-564.
A fetal wave of human type 3 effector γδ cells with restricted TCR diversity persists into adulthood
Tan L, Fichtner A, Bruni E, Odak I, Sandrock I, Bubke A, Borchers A, Schultze-Florey C, Koenecke C, Förster R, Jarek M, von Kaisenberg C, Schulz A, Chu X, Zhang B, Li Y, Panzer U, Krebs C, Ravens S, Prinz I
Sci Immunol. 2021;6(58):.
Letzte Aktualisierung aus dem FIS: 26.09.2021 - 06:40 Uhr