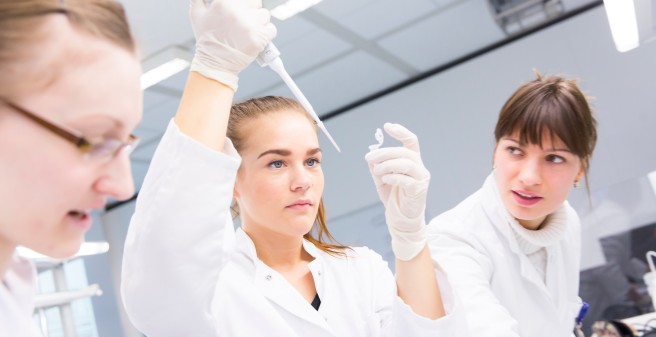 Mildred Scheel Cancer Career Center Hamburg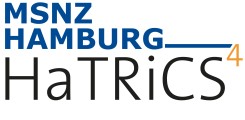 Welcome to the Mildred Scheel Cancer Career Center Hamburg - MSNZ Hamburg!
Our HaTriCS4 (=Hamburg Translational Research in Cancer: Stimulating, Shaping and Sustaining Scientific Careers) funding programme with its focus on "Dissemination and Metastasis" has set itself the task of strengthening young scientists in oncology. The German Cancer Aid supports our program over a period of 5 years.
Our programme is aimed at clinicians working in the field of science (so-called Clincian Scientists) and scientists working in cancer research (Medical Scientists).
The declared goals are to strengthen interdisciplinary, inter-professional and inter-institutional cooperation and to create and to highlight transparent and attractive career perspectives in translational cancer research for clinicians and medical scientists, both in academic research and in alternative fields and professions. In doing so, we support our fellows in the best possible way with all the means at our disposal.
Specifically, we will implement the following points:
establishment, support and supervision of interdisciplinary partner laboratories, consisting of a team of one medical and one clinician scientist.
Consolidation of a multi-level, competitive tenure track system for excellent cancer researchers to create transparent, long-term career paths at the site.
Expansion of the Clinician Scientist concept to create guaranteed research freedom in the daily routine of physicians.
Inclusion of the partner network in the Hamburg metropolitan region and other academic university locations (Kiel, Lübeck) in northern Germany.
Other infrastructural measures:

Organisation of an annual career exchange - Cancer Careers Day
Expansion of "Core Facilities" in the field of experimental tumour models and bioinformatics to support translational cancer research at the site
Development of a structured and innovative oncological / tumor biology teaching and training program to attract young scientists
Establishment of interdisciplinary mentoring teams, coaching as a means of strategic career planning and on the way to becoming a leader in the field, and targeted further and advanced training ofoour fellows in individually set focal points
needs-oriented support for the reconciliation of work and family/occupation and leisure time.
21.06.2021- Mildred Scheel Lectureship: Prof. Karen Vousden
We would like to welcome you to the 11th Mildred Scheel Lectureship accompanied by a surrounding program for young cancer researchers. Due to the still prevailing pandemic situation, the MSL will be held as a joint online event encompassing both Hamburg and Berlin lecture sites.
With this unique series, we pay tribute to the outstanding commitment of Dr. MildredScheel in the fight against cancer, for which she is to this date nationally and internationally highly regarded.
The Mildred Scheel Lectureship Series was jointly established by the German Cancer Aid and the German Cancer Research Center (DKFZ) and is supported by the DKFZ Executive Women's Initiative. Our goals are to honor outstanding scientists dedicated to the advancement of cancer research and to give young researchers the possibility to directly interact with these inspiring persons in order to encourage them to start and pursue their own scientific career.
We are looking forward to your participation!
Prof. Dr. Carsten Bokemeyer | Prof. Dr. Kai Rothkamm
Prof. Dr. Ulrich Keilholz | Prof. Dr. Angelika Eggert
Registration per email – free of charge: ucch.science.info@uke.de

15:00 Uhr: Panel Discussion with Hamburg and Berlin Junior Scientists:Scientific Careers

"Scientific careers: Is it possible to plan your career in biomedical science? Q & A with Karen Vousden", hosted by Dr. Inga Melzer, Mildred Scheel Cancer Career Center Hamburg, UKE and Prof. Dr. Il-Kang Na, Spokesperson of the Berlin School of Integrative Oncology, CCCC Berlin

In a joint panel discussion we want to take the opportunity to ask Prof. Vousden about her life as a scientist and to get a deeper insight into how she made it from PhD student to senior scientist at Cancer Research UK and since then to a role model for many - especially female - researchers in oncology.

For this event, we would like to invite all early career researchers (e.g. PhD students, postdocs, junior group leaders) to submit questions for Prof. Vousden, on which we will base the discussion/interview. We welcome submissions of your questions to Ms. Vousden by June 14, 2021 to msnz@uke.de.

During the event itself, there will of course be an opportunity to ask questions via chat or directly.

Click here to go to the panel discussion.

We would be very pleased if you would give us your feedback on the event. You can access the evaluation here .

17:15 Uhr: Lecture: Eat to live: A role for diet in cancer therapy

MSL 2021- Prof. Dr. Karen Vousden: Research Area and Scientific Background

Karen Vousden is Chief Scientist of Cancer Research UK and Group Leader at the Francis Crick Institute in London, UK. Following the discovery of perhaps the best known tumor suppressor of all, p53, in the 1970s, Professor Karen Vousden was instrumental in elucidating how p53 works and how it is controlled, including the identification of MDM2, a protein that interacts with p53.

Since then, Professor Vousden and her team have been studying how p53 functions in the healthy body to prevent tumor formation, and how this protective effect is lost during cancer development and progression. She is also leading investigations into how different defective versions of p53 contribute to cancer development and exploring whether defects in p53 function leave vulnerabilities in cancer cells that could be exploited to destroy them. Professor Vousden and her team's work on the function of this important tumor suppressor will be critical to the development of new treatment approaches in the future. Because alterations in p53 are found in almost all cancers, targeted treatments based on these mutations could improve survival in many different cancers.

In addition to her scientific accomplishments, Prof. Vousden has had a distinguished career as a researcher in oncology, has been awarded numerous honors, and is an elected member of some of the most influential scientific associations worldwide.

To access the lecture, click here: Lecture with Prof. Karen Vousden.

We would be very pleased if you would give us your feedback on the event. You can access the evaluation here .

18:30 Uhr: Get together - Networking via wonder.me

Get together: Networking for young and advanced scientists from Hamburg and Berlin

Every big event like this usually ends with a reception, i.e. an informal exchange about the lecture, the day and the topics over snacks and a glass of water or wine. This is always a good opportunity to meet and get to know old and new colleagues and to share ideas and thoughts and make plans together.

Since a real get-together is unfortunately still not possible due to the pandemic, we want to try to substitute this as much as possible virtually. The wonder.me platform, which we are sure some of you already have experience with, is an excellent way to do this.

Below you find a short instruction for the use of the platform. Let us surprise you, we are looking forward to your visit !

Enter here for the Get together

Here you can find a user´s manual for wonder.me.

We would be very pleased if you would give us your feedback on the event. You can access the evaluation here .