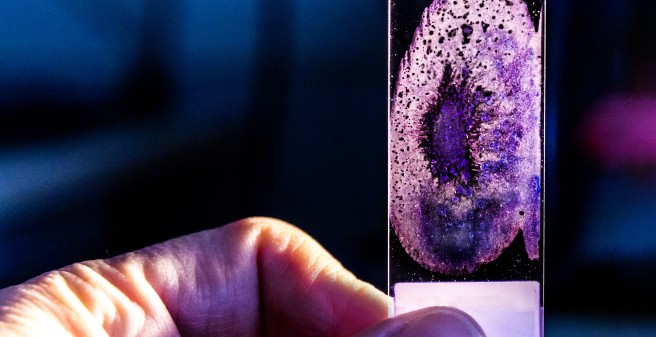 Key research areas at the UKE
Research topics and expertise, which are present at the UKE in particular, have been identified in recent years.
This increasing scientific focus is supported by the Faculty of Medicine and is reflected in the research centers and joint projects at national and European level.
Neurosciences

Hamburg Center of Neuroscience (HCNS)

The HCNS connects neuroscientific activities at the UKE from the molecular level to clinical research and also provides numerous interfaces to neuroscientific institutions of the University of Hamburg (in particular the Institute of Psychology). Currently it brings together more than 400 scientists and graduate students from 18 institutes and clinics of the UKE.

Core issues in HCNS are neuronal plasticity, regeneration of the nervous system, learning and memory, communication in the brain, emotional and cognitive research, mechanisms of neurodegeneration system physiological and molecular basis of signal transduction and molecular bases, diagnosis and treatment of neurological and psychiatric disorders.

Inflammation, Infection and Immunity (C3i)

Hamburg Center for Inflammation, Infection and Immunity (C3i)

With the scientific and clinical focus on the research and treatment of inflammatory and infectious diseases the C3i is a competence network of institutes and clinics at theUKE as well as external collaborators.
Their common goal is to develop an improved understanding of the etiology and pathogenesis of inflammatory and infectious processes in order to design new options for diagnosis, treatment and prognosis of our patients in a translational appraoch.

The C3i has a special expertise in clinical-experimental research on autoimmune diseases of the liver, kidney and central nervous system (Multiple Sclerosis) and the structure of biologically / biochemically oriented Infection Research.

Oncology Research

University Cancer Center Hamburg (UCCH)

The University Cancer Center Hamburg (UCCH) is a competence network of all clinics and centers of the University Hospital Hamburg-Eppendorf and its partners which are entrusted with the diagnosis, treatment and research of cancer.
This includes a number of selected institutions (such as the Heinrich Pette Institute and the EMBL, Hamburg branch at DESY), clinics and oncologists and hematologists in private practice in Hamburg and the surrounding area, which are integrated as partners in this process.

The UCCH's main interest is the research of diagnostic and prognostic parameters in order to develop and provide innovative diagnostic and therapeutic modalities for cancer patients in clinical trials, even before completion of clinical approval.

The UCCH is funded by the German Cancer Aid as a Top Oncological Centre.

Cardiovascular Research

Cardiovascular Research Center (CVRC)

The Cardiovascular Research Center (CRC) was established in April 2008 and unifies all experimental active research groups of the UKE in the cardiovascular area and in adjacent areas such as nephrology and anesthesiology.
Key research projects in CVRC, which are internationally displayed, bundle around the main topics

Genetic an Genomics of cardivascular diseases using approaches of Systems Medicine
Epidemiology of cardiovascular diseases, especially atrial fibrallation, heart attack and cardiac insufficiency
Stem cell immunology, Engineered Heart Tissue, embryonic stem cells and induced pluripotent stem cells (iPS)
Molecular mechanisms of heart failure and hypertrophic cardiomyopathy

Health Care Research and Public Health

Hamburg Center for Health Care Research (CHCR)

Subject of the health services research is the scientific study of the supply of individuals and populations with health related methods, products and services under everyday conditions. This includes both the patient care (care, tendance, diagnosis, treatment and aftercare of patients) as well as health care (prevention and health promotion).

Clinical trials for efficacy under ideal conditions ("efficacy") are extended by health services research with studies for efficiancy and benefit under everyday conditions ("effectiveness").
The mission of the Center for Healthcare Research (CHCR) is to bundle the existing competencies of health services research at the UKE and promote relevant projects in different areas of care and support.
Research at the UKE - which involves a close interaction between basic research and clinical research. The "translational idea" for the rapid translation of research findings for the benefit of the patients at the UKE has a high priority.

Research at the UKE - which also includes a close sharing of research infrastructure. Thus, for example, important areas of biomedical research in the building campus research combines with modern facilities under one roof. Furthermore supports the Medical Faculty enlargement of core facilities that make the researchers at the UKE key technologies easily accessible.

Research at the UKE - that means not least the close collaboration of researchers with other research institutions in northern Germany, especially with faculties of the University of Hamburg as well as with other universities, Helmholtz (DESY) and Leibniz institutes in the region.