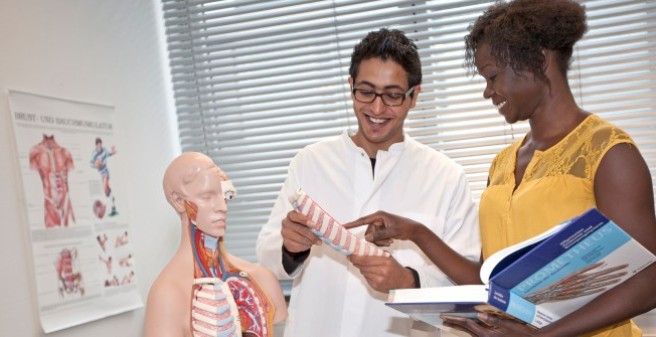 We are looking forward to meeting you!
You have an international professional qualification and would like to work as a nurse at the UKE? The UKE supports you in overcoming differences in qualification and recognising your studies or professional training. Our Academy for Education and Career (Akademie für Bildung und Karriere, ABK) offers an UKE intern adjustment qualification (Anpassungsqualifizierung, APQ) which in practical and theoretical units comprehensively prepares you for your future tasks. Welcome!
How can I take part in an adjustment qualification?
Here is what you need: a professional qualification (bachelor's or master's degree), German language level B2 and the deficit notification (Defizitbescheid) from the health department of the social security office. It states the qualifications you must additionally provide to be able to work in Germany and with us at the UKE as (paediatric) nurse.
As soon as you have collected your certificates and the official confirmation, you can submit your application at the UKE.
Contact: bewerbungabk@uke.de
UKE Academy for Training and Career
The APQ is structured as follows:
The duration of your adjustment qualification depends on the deficit notification from the social security office and is on average between 8 and 12 months. You complete the practical part of the APQ on one of our five portal wards. These wards are distributed over different areas of the UKE and have specially trained practical instructors available who provide a structured introductory training. In different workshops, lecturers at our Academy equip you with the necessary theoretical knowledge. The units are offered once a week for a duration of 5 hours. During this time, you are exempted from your work on the ward. You complete your APQ with a competence check at the Academy for Education and Career during which you describe your approach based on a concrete patient case.
Anpassungsqualifizierung im UKE
Good to know!
The immigration act for skilled personnel in Germany (Fachkräfteeinwanderungsgesetz), in effect since January 1st, 2020, permits you to enter Germany for a period of 6 months even without a work contract for your job search.
During your APQ you can work with us as nursing assistant.
At the UKE, we offer intensive language courses and targeted language training if you want to improve your German language skills.
Instead of an APQ, there is also the possibility to take an assessment test directly at the social security office.