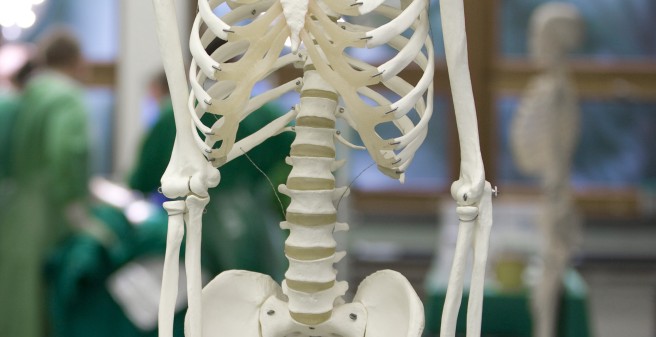 Medical Education
The Institute of Neuroanatomy and the Institute of Anatomye and Experimental Morphology are responsible for the education of medical and dental students in the subject of anatomy. Both institutes teach anatomy to physical education students and in the further education program MolExMed. They are also involved in the Postmortem Learning Center.

Information on lectures, examination dates in anatomy, neuroanatomy, histology etc. can be found in Moodle/Mephisto and in the semester course calendar.
Course coordinator - Medical Education
Priv.-Doz. Dr. rer. nat.
Uwe Wehrenberg
Students' Office
Post Mortem Learning Center
The PMLC was initiated by the Institute of Anatomie and the Institute of Forensic Medicine in order to provide practical anatomical further education for doctors via work on bodies bequeathed by body donors.
We offer the opportunity of learning surgical techniques and other clinical procedures on bequeated bodiese on the premises of the Institute of Anatomy and the Institute of Forensic Medicine. Apart from using cadavers preserved in embalming fluid, freshly frozen preparations are used .
Should you be interested in holding a course at the PMLC, please contact PD Dr. Uwe Wehrenberg
Neuroanatomy Lecturers
Prof. Dr. rer. nat. Roland Bender

Prof. Dr. rer. nat.

Roland Bender

PD Dr. ret. nat. Lars Fester

Priv.-Doz. Dr. rer. nat.

Lars Fester

Dr. rer. nat. Ulrich Fickel

Dr. rer. nat.

Ulrich Fickel

Location

---

N61 , 3rd Floor, Room number 304.1

Dr. phil. nat. Iris Haumann

Dr. phil. nat.

Iris Haumann

Dr. rer. nat. Ricardo Vierk

PD Dr. rer. nat. Uwe Wehrenberg

Priv.-Doz. Dr. rer. nat.

Uwe Wehrenberg