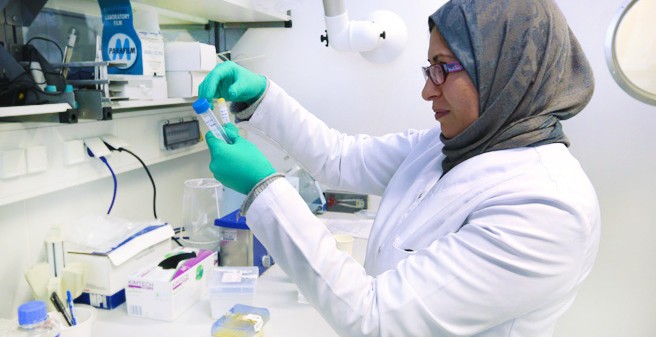 Current Projects at the Department of Tumor Biology | Funding
Our research is based on the aim to detect cancer cells and its components as DNA and microRNA using high sensitive procedures and to decode its properties using molecular biological methods. This research known as "liquid biopsy" is important for the evaluation of the pronosis of patients with beast cancer and other carcinoma, e.g. prostate, colon or lung cancer. It indicates to special targeted therapies and enables early assessment of the success or fail of therapy.
Furthermore, our more basic research investigates the process of the dissemination of tumor cells and the metastases as the main reason for malignancy of cancer. Altogether, these research activities will contribute to the development of innovative cancer therapies in the future.
Our research is largely financed by third-party funding. We are receiving funding of the German Research Foundation (DFG), the German Cancer Aid, The Federal Ministry of Education and Research, the European Union and the European Research Counsil (ERC).
We have been successfully applying for further funding, including the Erich und Gertrud Roggenbuck-Stiftung, the Werner-Otto-Stiftung, the Hamburger Stiftung für Krebsforschung, the Hiege-Stiftung gegen Hautkrebs (German foundations) as well as the Movember Foundation.
This fund raising is high competitive in the national and international competition to other excellent institutions and academics and adds new high quality jobs for young German and foreign researchers.