News for researchers
Current Paper of the Month (PoM)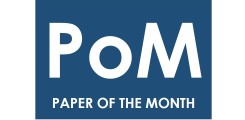 Every month the Dean's office for Research apprechiates UKE authors, that published an outstanding publication within the previous 2 month - the so called "Paper of the month" (PoM). The goal of PoM is the presentation of important research results obtained at the UKE. The call to participate and apply with a publication is adressed to researchers of all subject areas. Deadline for applications to become PoM is in each case the end of the month.
UKE Paper of the Month August 2023
PoM Archive
For questions regarding the content of this site, please contact Dr. Anne Wulf .