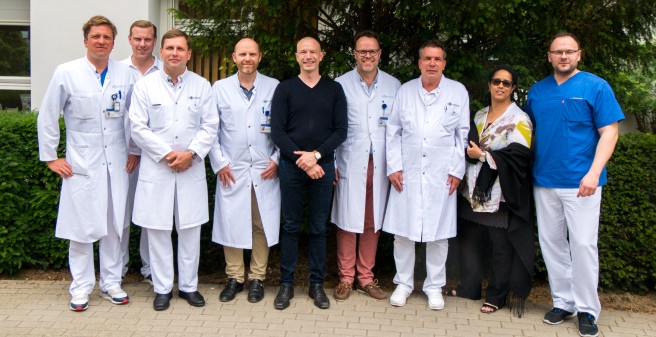 UCCH Sarcoma Center
Sarcomas are malignant neoplasms of the soft tissues, i.e. the connective and supporting tissues as well as peripheral nerves and bones, which can develop almost anywhere in the body. There are more than 50 different soft tissue sarcoma subtypes. With approximately 4,000 new cases in Germany every year, sarcomas are much less common than carcinomas. Decisive for the success of therapy for these rare diseases is a precise diagnosis and close interdisciplinary cooperation in centers with sufficient experience in the development and implementation of a multimodal, interdisciplinary therapy concept.
For this purpose, the Sarcoma Center Hamburg was founded in 2012, which is one of the largest sarcoma centers in Germany. It is part of the University Cancer Center (UCCH) at the University Medical Center Hamburg-Eppendorf (UKE), where numerous clinics of the UKE and established partners in both patient care and science have been working closely together for many years. In addition to sarcomas of soft tissue and bone, any unclear musculoskeletal tumors are treated. Therapy planning and implementation is interdisciplinary, i.e. specialists are available for the diagnosis of any unclear soft tissue formation and for the therapy of diagnosed, localized or metastasized sarcomas. In this context, large and complex surgical procedures can also be performed in our center.
The following clinics and institutes cooperate in the treatment of sarcomas at the UKE (in alphabetical order):
Clinic and Polyclinic for General, Visceral and Thoracic Surgery
Clinic and Polyclinic for Diagnostic and Interventional Radiology and Nuclear Medicine
Clinic for Vascular Medicine
Clinic and Polyclinic for Interdisciplinary Endoscopy
II. medical clinic and polyclinic (oncology, hematology and bone marrow transplantation with pneumology department)
Institute of Pathology
Department of Plastic, Reconstructive and Aesthetic Surgery
Department of Radiotherapy and Radiation Oncology
Clinic and Polyclinic for Trauma, Hand and Reconstructive Surgery
Clinic and Polyclinic for Orthopedics
Thanks to short distances and a good network of sarcoma specialists with many years of experience in various disciplines, an individual therapy concept can be created efficiently and professionally for each individual patient.
We are also available to provide a second opinion. Each case is discussed on an interdisciplinary basis in the weekly sarcoma tumour board and a joint therapy recommendation is formulated.
The UKE has also been participating in a large number of clinical sarcoma studies for many years, both to give our patients early access to innovative therapies and to contribute to the improvement of sarcoma therapy by gaining scientific knowledge.
A qualified and comprehensive consultation on sarcoma diseases requires the availability of all important documents. In order to avoid unnecessary delays and reappearances, we ask you to bring the following documents, if already available, to the sarcoma consultation on the agreed date or to send them to the UCCH in advance. If necessary, we will arrange for any additional examinations that may be necessary according to your wishes:
Valid referral slip
Discharge and surgery reports from previous hospital stays in chronological order with a list of therapies and dosages received to date
Histopathological findings report and, if available, reference pathological findings
Radiological findings in writing and on CD
Current list of medicines
Head of the consultation hour:
PD Dr. med. Matthias Priemel (Clinic for Trauma Surgery and Orthopaedics)
Dr. med. Anna Duprée (Clinic for General, Visceral and Thoracic Surgery)
Dr. med. Christoph Oing (II. Med. Clinic for Oncology, Hematology and Bone Marrow Transplantation with Department of Pneumology)