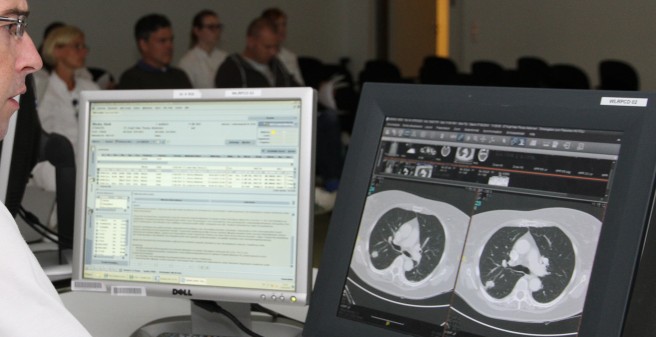 Tumor boards
In our UCCH tumor boards physicians from different specialized areas come together.
For all patients with cancer diagnosis an individual treatment concept will be discussed and recommended after diagnosis or during the course of therapy. The recommendations are based on standardized treatment concepts (pathways), which are developed within interdisciplinary working groups (task forces) at the Hubertus Wald Tumor Center. They are designed for each tumor type and are constantly updated.
At the tumor board it will also be discussed, if participating in a current clinical trial can be an option for the patient.
Our objective is the best care and treatment for our tumor patients, respecting the guidelines of the latest internationally recognized pathways of standardized procedures on highest scientific level.
Registering internal patients
UKE internal patients can be registered via SOARIAN and the registration form "tumor board". The registration shall be entered into the system till 2 pm the day before. Please attach all necessary results (e.g. CT pictures, pathology tests etc.) to the form in order to enable radiology and pathology to prepare themselves for the tumor board. A written agreement of UKE patients is not required.
Registering external patients
UKE external patients can be registered for a tumor board via fax +49 (0)40 7411-56744 using the registration form (provided below) till 10 am the day before.
Educating the patient about the discussion of his/her case at the tumor board needs to be done by the referring physician. The according acceptance form can be downloaded at the bottom of this page.
The necessary digital images for the tumor board (DVDs, CDs) need to be delivered to the UCCH Central Entry Port till 12 pm at the latest.
Please note that the case must be presented in the tumour board by the attending physician.
General information concerning tumor board participation
Due to data privacy reasons participation in the tumor boards is only possible for UKE physicians and external doctors who present a case within the framework of the tumor board.