Department of Visceral Transplantation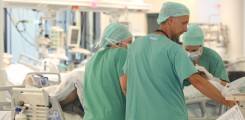 Our facility is the biggest transplant center in North Germany and Europe's biggest center for liver transplants for children. Our clinic established the first live liver donor program for Europe.
We practice all the most advanced methods of kidney transplant surgery and kidney live donor procedures, including AB0 incompatible transplants and – in cooperation with the Center for Children's Medicine – perform kidney transplants on children.
Our expertise includes combined surgical procedures such as kidney/pancreas and liver/ kidney transplants.