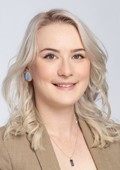 Dr. rer. medic.
Mareike Thomas
Publications
2023
Characteristics of behavioural addiction in Parkinson's disease patients with self-reported impulse control disorder and controls matched for levodopa equivalent dose: a matched case–control study
Leplow B, Renftle D, Thomas M, Michaelis K, Solbrig S, Maetzler W, Berg D, Liepelt-Scarfone I
J NEURAL TRANSM. 2023;130(2):125-133.
Premorbid Psychological Factors Associated with Long-Term Postoperative Headache after Microsurgery in Vestibular Schwannoma - A Retrospective Pilot Study
Thomas M, Rampp S, Scheer M, Strauss C, Prell J, Schönfeld R, Leplow B
BRAIN SCI. 2023;13(8):.
Significant improvement in neuropsychological functions after awake craniotomy in a patient with Oligodendroglioma: A case report
Thomas M, Scheer M, Spindler K, Nieberlein L, Hartwigsen G, Gussew A, Schob S, Prell J, Strauss C, Rampp S
INTERDISCIP NEUROSUR. 2023.
2022
Changes in brain function during negative emotion processing in the long-term course of depression
Enneking V, Klug M, Borgers T, Dohm K, Grotegerd D, Frankenberger L, Hülsmann C, Lemke H, Meinert S, Leehr E, Opel N, Goltermann J, Richter M, Waltemate L, Böhnlein J, Sindermann L, Repple J, Bauer J, Thomas M, Dannlowski U, Redlich R
BRIT J PSYCHIAT. 2022;221(2):476–484.
Letzte Aktualisierung aus dem FIS: 04.12.2023 - 04:23 Uhr