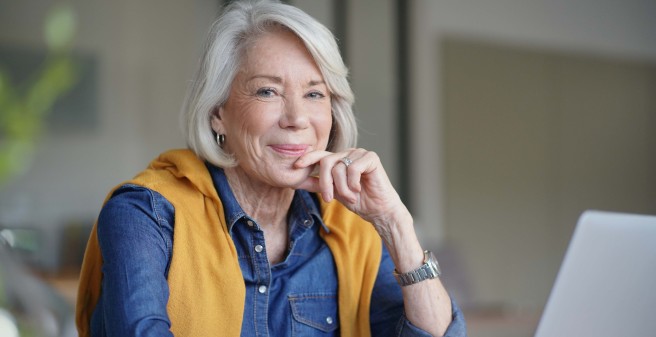 Suffering from cancer and still in contact
The corona pandemic demands a lot from all of us. For you as a cancer patient in particular, this may mean postponed check-ups, less contact with your therapeutic staff, and even complete isolation. In this situation, it is a challenge to obtain the necessary information and to keep up to date with your own disease.
We would like to give you security with our cancer network in the Hamburg metropolitan region and not leave you alone in this situation. Our experts are still available to you with advice and support. We are committed to continuing to provide you with the information you need and have therefore developed an annual program of online events on the most common topics together with our partners.
We are particularly pleased that the representatives of the self-help groups support us with their experiences. Below you will find a list of events for the first half of 2021. Please take advantage of this offer and stay in touch with us.
Contact and registration
Please register for our events by emailing Ms. Brachmann at t.brachmann@uke.de .
You will receive the dial-in data and technical instructions for the Webex video conference by mail after your registration.
All you need to participate is a computer,tablet or smartphone with an internet browser.
Registration and participation in the events is free of charge.
Flyer of the event for further information.
Program 1st half year of 2021
04.02.2021
16:30 - 18:00
Kick-off for World Cancer Day
Latest findings in cancer treatment
World Cancer Day has become a firm tradition at UCCH as an information day. Also online we would like to take the opportunity to discuss with experts from medicine and research what the current trends are in the current stressful situation. Well-known representatives of self-help groups will also be present and will contribute to the discussion with their experiences.
Speakers:
Prof. Dr. Carsten Bokemeyer , II. medical clinic and polyclinic, UKE
Prof. Dr. Markus Graefen , Martini Clinic, UKE
Prof. Dr. Barbara Schmalfeldt , Clinic and Polyclinic for Gynecology, UKE
Prof. Dr. Klaus Pantel , Institute for Tumor Biology, UKE
Patient representatives:
Ernst-Günther Carl , Bundesverband Prostatakrebs Selbsthilfe e.V. (German Prostate Cancer Self-Help Association)
Heide Lakemann , Women's Self-Help Cancer e.V.
25.03.2021
16:30 - 18:00
Therapy Support:
Psychology / -oncology: "Cancer sick in the pandemic - learning to deal with fears".
The pandemic is expected to be with us for some time. Under these circumstances, strategies for psychological "self-hygiene" and resilience are extremely important. The connection between the psychooncologists of the UCCH and the Hamburger Krebsgesellschaft e.V. has always been very close, so that the experts of both institutions will give a joint lecture on this topic. Also present will be a self-help representative who has gained a lot of experience on this topic by participating in the "UCCH Coaching for Self-Help Group Leaders".
Speakers:
Monika Bohrmann , Hamburger Krebsgesellschaft e.V.
Dr. Frank Schulz-Kindermann , Institute and Polyclinic for Medical Psychology, UKE
Patient representatives:
Jürgen Martens , Multiple Myeloma Support Group Hamburg

08.04.2021
16:30 - 18:00
Topic Focus:
Lung Cancer
In the treatment of lung cancer, many advances have been made in recent years, especially in the field of personalized medicine. Our partner, the LungenClinic Großhansdorf, as well as the representatives of the UCCH will introduce you to the latest findings and explain for whom which therapy makes sense.
Speakers:
Prof. Dr. Carsten Bokemeyer , II. Medical Clinic and Polyclinic, UKE
PD Dr. Dr. Thorsten Frenzel , Clinic for Radiotherapy and Radiooncology, UKE
Prof. Dr. Cordula Petersen , Clinic for Radiotherapy and Radiooncology, UKE
Prof. Dr. Martin Reck , LungClinic Grosshansdorf
Dr. Janna-Lisa Velthaus-Rusik , II Medical Clinic and Polyclinic, UKE
Patient representatives:
Gesa Vehlow , Patient Network Personalized Lung Cancer Therapy

20.05.2021
16:30 - 18:00
Focus on therapy support::
Cancer in the family and circle of friends - how do relatives deal with it?
At times when relatives are not allowed to accompany their loved ones to the doctor's consultation or to visit them in the hospital, a high level of communication and information is required. The UCCH has a focus on research on relatives, especially in the case of seriously ill patients, and will give a lecture on the possibilities for relatives together with representatives of the SAPV teams.
Speakers:
Franziska Burghard , Head of the Palliative Medicine Department at UKE
Sven Goldbach , Head of Goldbach Palliative Care Team Hamburg
Anneke Ullrich , Scientific Director and Psychooncologist Palliative Medicine UKE
10.06.2021
16:30 - 18:00
Topic Cancer Type:
Gastrointestinal tumors
The world's largest cancer congress of the American Society of Oncology (ASCO) will have just ended. Together with our partners in private practice from HOPA (Altona) and hope (Eppendorf), the surgical and oncological representatives of the UCCH will compile the latest findings of the congress for you. This topic will be accompanied by various self-help groups, including the German ILCO e.V..
Speakers:
Dr. Eray Gökkurt , Hematological-Oncological Practice Eppendorf (hope)
Prof. Dr. Daniel Perez , Clinic and Polyclinic for General, Visceral and Thoracic Surgery, UKE
PD Dr. Gunter Schuch , Hematology-Oncology Practice Altona (HOPA)
PD Dr. Marianne Sinn , II Medical Clinic and Polyclinic, UKE
PD Dr. Alexander Stein , Hematology-oncology practice Eppendorf (hope)
Patient representatives:
German ILCO e.V. (Board members of the regional association Hamburg & SH)

08.07.2021
16:30 - 18:00
Accompanying Therapy Topic:
Lifestyle factors. What can I do with exercise and nutrition?
When many things no longer work in lockdown, responsibility for one's own lifestyle is all the more important. What can each individual do to improve or alleviate the circumstances of his/her own illness?
Together with our partners from the University Hospital Schleswig-Holstein, exercise and nutrition scientists will provide tips that you can implement at home.
Speakers:
Julia von Grundherr , University Cancer Center Hamburg (UCCH)
Dr. Wiebke Jensen , University Cancer Center Hamburg (UCCH)
Jannike Salchow , University Cancer Center Hamburg (UCCH)
Representatives of the University Hospital Schleswig-Holstein, UKSH
Patient representatives:
Jürgen Martens , Multiple Myeloma Support Group Hamburg

Outlook topics 2nd half year
Skin cancer
Liver cancer
Leukemias
Breast Cancer
Lymphoma & myeloma
Complementary Medicine
Knowledge Transfer from the Lab Bench to the Bedside