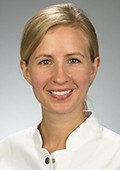 Dr. med.
Antonia Beitzen-Heineke
Areas of expertise
Oncology

Hematology
Publications
AXL Inhibition Represents a Novel Therapeutic Approach in BCR-ABL Negative Myeloproliferative Neoplasms
Beitzen-Heineke A, Waizenegger J, Berenbrok N, Gensch V, Udonta F, Vargas-Delgado M, Engelmann J, Hoffmann F, von Amsberg G, Riecken K, Beumer N, Imbusch C, Lorens J, Fischer T, Pantel K, Bokemeyer C, Ben Batalla I, Loges S
HEMASPHERE. 2021;5(9):e630.
Loss of CD22 expression and expansion of a CD22dim subpopulation in adults with relapsed/refractory B-lymphoblastic leukaemia after treatment with Inotuzumab-Ozogamicin
Reinert J, Beitzen-Heineke A, Wethmar K, Stelljes M, Fiedler W, Schwartz S
ANN HEMATOL. 2021;100(11):2727-2732.
Myocardial injury detected by T1 and T2 mapping on CMR predicts subsequent cancer therapy-related cardiac dysfunction in patients with breast cancer treated by epirubicin-based chemotherapy or left-sided RT
Tahir E, Azar M, Shihada S, Seiffert K, Goy Y, Beitzen-Heineke A, Molwitz I, Muellerleile K, Stehning C, Schön G, Adam G, Petersen C, Müller V, Lund G
EUR RADIOL. 2021 [Epub ahead of print].
Human Invariant Natural Killer T cells possess immune-modulating functions during Aspergillus infection
Beitzen-Heineke A, Bouzani M, Schmitt A, Kurzai O, Hünniger K, Einsele H, Loeffler J
MED MYCOL. 2015;54(2):169-176.
Letzte Aktualisierung aus dem FIS: 07.12.2021 - 05:28 Uhr