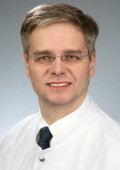 Priv.-Doz. Dr. med.
Andreas Block
MBA
Medical Specialist in Internal Medicine
Facharzt für Hämatologie - Internistische Onkologie
Facharzt für Gastroenterologie
MBA Gesundheitsmanagement
Areas of expertise
Hematology

Oncology

Gastroenterology
Curriculum vitae
Publications
2023
2022
2021
2020
2019
2018
2017
2016
2014
2013
2012
2008
2007
2004
2003
2002
2000
1998
1997
1996
1994
Targeted hyperactivation of AKT through inhibition of ectopic expressed SHIP1 induces cell death in colon carcinoma cells and derived metastases
Ehm P, Linnebacher M, Block A, Rehbach C, Jücker M
CELL SIGNAL. 2023;108:110720.
Tumor cell E-selectin ligands determine partialefficacy of bortezomib on spontaneous lung metastasis formation of solid human tumors in vivo
Lange T, Valentiner U, Wicklein D, Maar H, Labitzky V, Ahlers A, Starzonek S, Genduso S, Staffeldt L, Pahlow C, Dück A, Stürken C, Baranowsky A, Bauer A, Bulk E, Schwab A, Riecken K, Börnchen C, Kiefmann R, Abraham V, DeLisser H, Gemoll T, Habermann J, Block A, Pantel K, Schumacher U
MOL THER. 2022;30(4):1536-1552.
Long-Term Effects of Colorectal Carcinoma in Childhood and Adolescents
Block A, Brecht I
2021. Late Treatment Effects and Cancer Survivor Care in the Young. Beck J, Bokemeyer C, Langer T (eds.). 1. ed. Cham: Springer Nature Switzerland, 365-373.
Combined Targeting of AKT and mTOR Synergistically Inhibits Formation of Primary Colorectal Carcinoma Tumouroids In Vitro: A 3D Tumour Model for Pre-therapeutic Drug Screening
Nörz D, Mullins C, Smit D, Linnebacher M, Hagel G, Mirdogan A, Siekiera J, Ehm P, Izbicki J, Block A, Thastrup O, Jücker M
ANTICANCER RES. 2021;41(5):2257-2275.
What do patients expect? Assessing patient-centredness from the patients' perspective: an interview study
Zeh S, Christalle E, Zill J, Härter M, Block A, Scholl I
BMJ OPEN. 2021;11(7):.
Case report: acute abdominal pain in a 37-year-old patient and the consequences for his family
Niemeyer E, Mofid H, Zornig C, Burandt E, Stein A, Block A, Volk A
BMC GASTROENTEROL. 2020;20(1):129.
Implications of SARS-CoV-2 Infection and COVID-19 Crisis on Clinical Cancer Care: Report of the University Cancer Center Hamburg: Report of the University Cancer Center Hamburg
Weisel K, Morgner-Miehlke A, Petersen C, Fiedler W, Block A, Schafhausen P, Knobloch J, Bokemeyer C
ONCOL RES TREAT. 2020;43(6):307-313.
3D in vitro system for measuring treatment responses to immunotherapy in CRC patients
Sturmheit T, Stamm H, Sutus Temovski T, Konczalla L, Brauneck F, Stange I, Köllmann S, Li J, Perez D, thastrup J, Wellbrock J, Fiedler W, Kupper J, Block A
J CLIN ONCOL. 2019.
CabaGast: multicentre, Phase II study with cabazitaxel in previously treated patients with advanced or metastatic adenocarcinoma of the esophagogastric junction and stomach
Schmalenberg H, Al-Batran S, Pauligk C, Zander T, Reichart A, Lindig U, Kleiß M, Müller L, Bolling C, Seufferlein T, Reichardt P, Kullmann F, Eschenburg H, Schmittel A, Egger M, Block A, Goetze T
J CANCER RES CLIN. 2018;144(3):559-569.
PICCA study: panitumumab in combination with cisplatin/gemcitabine chemotherapy in KRAS wild-type patients with biliary cancer-a randomised biomarker-driven clinical phase II AIO study
Vogel A, Kasper S, Bitzer M, Block A, Sinn M, Schulze-Bergkamen H, Moehler M, Pfarr N, Endris V, Goeppert B, Merx K, Schnoy E, Siveke J, Michl P, Waldschmidt D, Kuhlmann J, Geissler M, Kahl C, Evenkamp R, Schmidt T, Kuhlmann A, Weichert W, Kubicka S
EUR J CANCER. 2018;92:11-19.
Novel biomarkers in cancer: The whole is greater than the sum of its parts
Samatov T, Galatenko V, Block A, Shkurnikov M, Tonevitsky A, Schumacher U
SEMIN CANCER BIOL. 2017;45:50-57.
Intercenter validation of a knowledge based model for automated planning of volumetric modulated arc therapy for prostate cancer. The experience of the German RapidPlan Consortium
Schubert C, Waletzko O, Weiss C, Voelzke D, Toperim S, Roeser A, Puccini S, Piroth M, Mehrens C, Kueter J, Hierholz K, Gerull K, Fogliata A, Block A, Cozzi L
PLOS ONE. 2017;12(5):e0178034.
Histopathological regression after neoadjuvant docetaxel, oxaliplatin, fluorouracil, and leucovorin versus epirubicin, cisplatin, and fluorouracil or capecitabine in patients with resectable gastric or gastro-oesophageal junction adenocarcinoma (FLOT4-AIO): results from the phase 2 part of a multicentre, open-label, randomised phase 2/3 trial
Al-Batran S, Hofheinz R, Pauligk C, Kopp H, Haag G, Luley K, Meiler J, Homann N, Lorenzen S, Schmalenberg H, Probst S, Koenigsmann M, Egger M, Prasnikar N, Caca K, Trojan J, Martens U, Block A, Fischbach W, Mahlberg R, Clemens M, Illerhaus G, Zirlik K, Behringer D, Schmiegel W, Pohl M, Heike M, Ronellenfitsch U, Schuler M, Bechstein W, Königsrainer A, Gaiser T, Schirmacher P, Hozaeel W, Reichart A, Goetze T, Sievert M, Jäger E, Mönig S, Tannapfel A
LANCET ONCOL. 2016;17(12):1697-1708.
Molekulargenetische Diagnostik - Was wissen die Maschinen?: Was wollen wir wissen?
Bauer P, Hummel M, von Kalle C, Schmutzler R, Block A, Stroth M, Woopen C, Engelke K
ONCOL RES TREAT. 2016;39 (Suppl 2):2-23.
Perspectives in chemosensitivity and chemoresistance assays and their implementation in head and neck cancer
Bussmann L, Busch C, Lörincz B, Rieckmann T, Block A, Knecht R
EUR ARCH OTO-RHINO-L. 2016;273(12):4073-4080.
ASCO – Highlights zum kolorektalen Karzinom
Block A
Onkologie heute. 2014;(6-2014):.
44-jährige Patientin mit hereditärem nichtpolypösem Kolonkarzinom: Vorsorgeuntersuchungen nichtkolonischer Tumoren
Holzhüter J, Rösch T, Block A, Lohse A, Lüth S
INTERNIST. 2013;54(3):353-8.
A 44-year-old woman with hereditary nonpolyposis colon carcinoma: screening examinations for non-colonic tumors.
Holzhüter J, Rösch T, Block A, Lohse A, Lüth S
INTERNIST. 2013;54:353-358.
Kolorektales Karzinom: den Wirkmechanismen auf der Spur
Block A, Arnold D
Onkologie heute. 2012;10(5):12.
Palliative und supportive Therapie beim Karzinom des ösophagogastralen Übergangs
Block A, Arnold D
VISZERALMEDIZIN. 2012;28(2):121-127.
Esophageal squamous cell carcinoma presenting with extensive skin lesions: a case report
Iwanski G, Block A, von Amsberg G, Münch J, Claus S, Fiedler W, Bokemeyer C
J Med Case Rep. 2008;2:115.
Remission of Philadelphia chromosome-positive central nervous system leukemia after dasatinib therapy.
Abdelhalim A, Barcos M, Block A, Sait S, Starostik P, Wetzler M, Wang E
LEUKEMIA LYMPHOMA. 2007;48(5):1053-1056.
aCGH local copy number aberrations associated with overall copy number genomic instability in colorectal cancer: coordinate involvement of the regions including BCR and ABL.
Bartos J, Gaile D, McQuaid D, Conroy J, Darbary H, Nowak N, Block A, Petrelli N, Mittelman A, Stoler D, Anderson G
MUTAT RES-FUND MOL M. 2007;615(1-2):1-11.
Costs and benefits of direct-to-consumer advertising: the case of depression.
Block A
PHARMACOECONOMICS. 2007;25(6):511-521.
Thalamic-prefrontal cortical-ventral striatal circuitry mediates dissociable components of strategy set shifting.
Block A, Dhanji H, Thompson-Tardif S, Floresco S
CEREB CORTEX. 2007;17(7):1625-1636.
Biliary stent clogging solved by nanotechnology? In vitro study of inorganic-organic sol-gel coatings for teflon stents.
Seitz U, Block A, Schaefer A, Wienhold U, Bohnacker S, Siebert K, Seewald S, Thonke F, Wulff H, De Weerth A, Soehendra N
GASTROENTEROLOGY. 2007;133(1):65-71.
Cloning and characterization of an adenoviral vector for highly efficient and doxycycline-suppressible expression of bioactive human single-chain interleukin 12 in colon cancer.
Wulff H, Krieger T, Krüger K, Stahmer I, Thaiss F, Schäfer H, Block A
BMC BIOTECHNOL. 2007;7:35.
Characterization of effusion-infiltrating T cells: benign versus malignant effusions.
Atanackovic D, Block A, de Weerth A, Faltz C, Hossfeld D, Hegewisch-Becker S
CLIN CANCER RES. 2004;10(8):2600-2608.
Limited specificity of promoter constructs for gene therapy in osteosarcoma.
Pollmann A, Kabisch H, Block A, Müller J, Hellwinkel O
INT J MOL MED. 2004;14(4):737-742.
Highly suppressible expression of single-chain interleukin-12 by doxycycline following adenoviral infection with a single-vector Tet-regulatory system.
Block A, Puls F, Müller J, Milasinovic D, Igelmann D, Schäfer P, Kupfermann N, Schmoldt A, Ameis D, Greten H
J GENE MED. 2003;5(3):190-200.
A young woman with persistent hypoglycemia, rhabdomyolysis, and coma: recognizing fatty acid oxidation defects in adults.
Kluge S, Kühnelt P, Block A, Merkel M, Gocht A, Lukacs Z, Kohlschütter A, Kreymann G
CRIT CARE MED. 2003;31(4):1273-1276.
Amplified Muc1-specific gene expression in colon cancer cells utilizing a binary system in adenoviral vectors.
Block A, Milasinovic D, Mueller J, Schaefer P, Schaefer H, Greten H
ANTICANCER RES. 2002;22(6):3285-3292.
Gene therapy of metastatic colon carcinoma: regression of multiple hepatic metastases by adenoviral expression of bacterial cytosine deaminase.
Block A, Freund C, Chen S, Nguyen K, Finegold M, Windler E, Woo S
CANCER GENE THER. 2000;7(3):438-445.
Adenovirus-mediated suicide gene therapy for bladder cancer: comparison of the cytomegalovirus- and Rous sarcoma virus-promoter.
Freund C, Tong X, Block A, Contant C, Kieback D, Rowley D, Lerner S
ANTICANCER RES. 2000;20(5):2811-2816.
Adenovirus-mediated ex vivo immunogene and in vivo combination gene therapy strategies induce a systemic anti-tumor immune defense in the mouse B16 melanoma model.
Bonnekoh B, Greenhalgh D, Chen S, Bickenbach J, Block A, Rich S, Krieg T, Woo S, Roop D
ADV EXP MED BIOL. 1998;451:335-343.
Ex vivo and in vivo adenovirus-mediated gene therapy strategies induce a systemic anti-tumor immune defence in the B16 melanoma model.
Bonnekoh B, Greenhalgh D, Chen S, Block A, Rich S, Krieg T, Woo S, Roop D
J INVEST DERMATOL. 1998;110(6):867-871.
Adenoviral-mediated herpes simplex virus thymidine kinase gene transfer: regression of hepatic metastasis of pancreatic tumors.
Block A, Chen S, Kosai K, Finegold M, Woo S
PANCREAS. 1997;15(1):25-34.
[Adenovirus gene therapy for liver metastases of gastrointestinal tumors. Development status and future prospectives]
Block A, Windler E, Greten H, Woo S
DEUT MED WOCHENSCHR. 1997;122(22):728-732.
Adenovirus-mediated suicide gene therapy for experimental bladder cancer.
Sutton M, Berkman S, Chen S, Block A, Dang T, Kattan M, Wheeler T, Rowley D, Woo S, Lerner S
UROLOGY. 1997;49(2):173-180.
Annexins in endocytosis.
Jäckle S, Rinninger F, Beisiegel U, Block A, Tauscher W, Biermer M, Greten H, Windler E
Z GASTROENTEROL. 1996;34(3):81-82.
In vivo gene therapy of ovarian cancer by adenovirus-mediated thymidine kinase gene transduction and ganciclovir administration.
Tong X, Block A, Chen S, Contant C, Agoulnik I, Blankenburg K, Kaufman R, Woo S, Kieback D
GYNECOL ONCOL. 1996;61(2):175-179.
Adenovirus-mediated thymidine kinase gene transduction in human epithelial ovarian cancer cell lines followed by exposure to ganciclovir.
Tong X, Block A, Chen S, Woo S, Kieback D
ANTICANCER RES. 1996;16(4):1611-1617.
Annexin VI, a marker protein of hepatocytic endosomes.
Jäckle S, Beisiegel U, Rinninger F, Buck F, Grigoleit A, Block A, Gröger I, Greten H, Windler E
J BIOL CHEM. 1994;269(2):1026-1032.
Letzte Aktualisierung aus dem FIS: 25.09.2023 - 05:23 Uhr