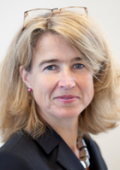 Claudia Mews
Medical Specialist in General Medicine
Areas of expertise
General medicine
Curriculum vitae
Awards
2010 1. Posterpreis auf dem 44. Kongress der Deutschen Gesellschaft für Allgemeinmedizin und Familienmedizin (DEGAM): Orale Geriatrie – Interdisziplinäre Lehrveranstaltung der Zahnmedizin und der Allgemeinmedizin für Studierende der Zahnmedizin
Memberships
Mitglied der Deutschen Gesellschaft für Allgemeinmedizin und Familienmedizin DEGAM

Mitglied der Gesellschaft für Medizinische Ausbildung GMA

Mitglied im Kuratorium der Hausärztlichen Fortbildung Hamburg

Mitglied im Beirat des Projektes Gewinn Gesundheit: Hinsehen - Wahrnehmen – Handeln: Häusliche und sexualisierte Gewalt –

Mitglied des Runden Tisches Alphabetisierung Nord
Publications
2021
Flüchtlinge und Schutzsuchende
Mews C, Pruskil S
2021. Allgemeinmedizin. Chenot , Scherer M (eds.). 1. ed. München: Elsevier GmbH, 675-685.
2020
Study protocol for a randomised controlled trial evaluating an evidence-based, stepped and coordinated care service model for mental disorders (RECOVER)
Lambert M, Karow A, Gallinat J, Lüdecke D, Kraft V, Rohenkohl A, Schröter R, Finter C, Siem A, Tlach L, Werkle N, Bargel S, Ohm G, Hoff M, Peter H, Scherer M, Mews C, Pruskil S, Lüke J, Härter M, Dirmaier J, Schulte-Markwort M, Löwe B, Briken P, Peper H, Schweiger M, Mösko M, Bock T, Wittzack M, Meyer H, Deister A, Michels R, Herr S, Konnopka A, König H, Wegscheider K, Daubmann A, Zapf A, Peth J, König H, Schulz H
BMJ OPEN. 2020;10(5):e036021.
Diabetesschulung von türkeistämmigen Menschen mit geringen schriftsprachlichen Kompetenzen - Ergebnisse einer Online-Befragung von schulenden Praxen
Mews C, Eisele M, Boczor S, Scherer M
Z EVIDENZ FORTBILD Q. 2020 [Epub ahead of print];2020:.
Referrals to secondary care in an outpatient primary care walk-in clinic for refugees in Germany: results from a secondary data analysis based on electronic medical records
Schäfer I, Oltrogge-Abiry J, Pruskil S, Mews C, Schlichting D, Jahnke M, Wagner H, Lühmann D, Scherer M
BMJ OPEN. 2020;10(10):e035625.
2018
Soziale Probleme in der hausärztlichen Versorgung – Häufigkeit, Reaktionen, Handlungsoptionen und erwünschter Unterstützungsbedarf aus der Sicht von Hausärztinnen und Hausärzten
Zimmermann T, Mews C, Kloppe T, Tetzlaff B, Hadwiger M, von dem Knesebeck O, Scherer M
Z EVIDENZ FORTBILD Q. 2018;131-132:81-89.
2017
Einsatz von Videodolmetschen in der ambulanten Versorgung in Hamburg – eine Bedarfsanalyse
Mews C, Pruskil S, Kloppe T, Wilsdorf S, Scherer M
ZFA Z Allg Med. 2017;93(11):461-465.
Letzte Aktualisierung aus dem FIS: 24.01.2022 - 04:01 Uhr