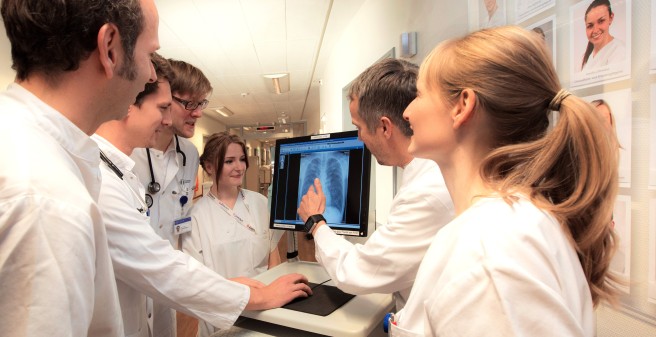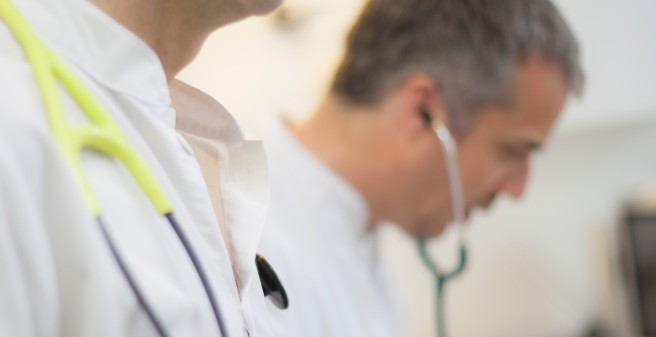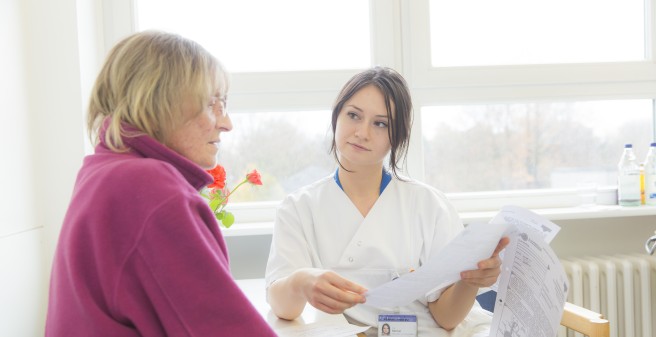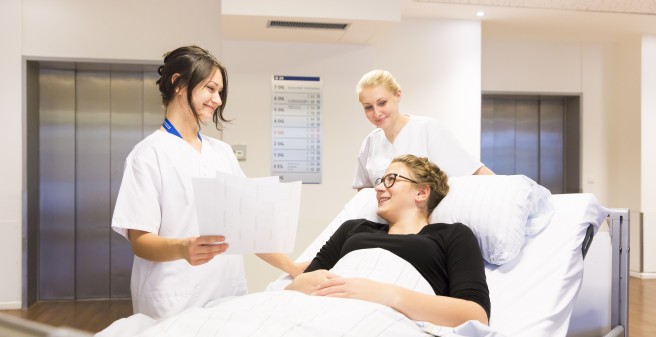 Ward C3B

The Pulmonology Ward C3b is located on the 3.floor of building O24. We have 25 modern beds in 10 double rooms and 5 single rooms (isolation rooms) available for the care and treatment of pulmonary diseases.

Treatment Offer

Treatment Offer

As the Lung Clinic of the University Medical Center Hamburg-Eppendorf (UKE), we treat all disorders of the lungs. As a university center, our focus is on severe lung diseases and pulmonary endoscopy. Within the framework of the Martin Zeitz Center for Rare Diseases, we treat patients with ???? at the Center for Pulmonary Arterial Hypertension (CPAHH). In addition to PAH, our main areas of emphasis include the treatment of cystic fibrosis in adults, interstitial lung diseases, rare lung diseases , and as part of the University Transplant Center, patients before and after a lung transplant. In addition, our modern equipment used in pulmonary endoscopy offers an extensive range of diagnostic and therapeutic options. To ensure comprehensive diagnostics and treatment for our patients, each case is discussed individually by a group of different experts in interdisciplinary boards, particularly the Thorax Board, the Board for Interstitial Lung diseases and Rare Lung Diseases, and the Transplantation Board.

Hospital Admission

Hospital Admission

The central bed-occupancy management coordinates your admission to the Pulmonology Ward C3B.

Contact:

Hr. Joachim Meyer, Phone 040/ 7410 - 58202.

On the day of admission, a coordinator from bed-occupancy will inform you between 8:30 a.m. - 9:00 a.m. by phone whether there is capacity for admission. When you receive a confirmation, please check in on your admission day in Building O50. Here, your data will be electronically recorded and you will obtain your personal patient bracelet. For your own safety, we ask you to wear the patient bracelet during your entire hospital stay. This allows you to be identified in every situation. After your central registration, proceed directly to the reception desk of Ward C3B on the 3. Floor of the East Building 24. There you will receive your room.

Please bring the following (if available and required):

• Your referral for inpatient admission

• Your health insurance card

• Your identity card

• All doctor's letters, reports and x-ray and CT images on CD

• Current medication plan

• Ventilator support devices (ventilator etc.)

• Copy of patient decree (living will), power of attorney

•Other aids (e.g. walker etc.).

Hospital stay

Hospital stay

Our accommodations on the Pulmonology Ward C3B include ten comfortable double rooms with a shower and toilet. We also have five single rooms (isolation rooms). Room amenities include an electrically adjustable comfort bed, a lockable wardrobe, as well as a night cabinet with its own multimedia terminal for free access to television and radio. For the use of terminals, you need an access card that is given to you during admission. Your multi-media terminal provides you with your personal telephone connection and internet access. For these services, you can transfer money to your access card. Of course you can also use your own mobile phone.

We would like to ask you to leave valuables, jewelry and large sums of money at home. Please understand that we assume no liability for your personal belongings and wardrobe.

During your hospital stay, you can choose your meals according to your wishes with assistants from the catering service. Our patients have a wide range of menu plans to choose from. For special diet requirements, nutrition counseling can be arranged.

The morning rounds usually start from 9 a.m. on weekdays. Our team of doctors and nursing staff will inform you about the latest findings and discuss further diagnostics and treatment plans together with you. During the rounds, your questions can be answered openly.

We are pleased when visits from your family help facilitate your recovery. Visiting hours end at 9 p.m.

In the second floor of the new hospital Building East 10 on the grounds of the UKE, you will find numerous opportunities for shopping and dining, as well as different services (post office, bank subsidiary, hairdresser etc.).

Together with our social services department, we can advise and support you in planning your nursing care after discharge, in the transition to a rehabilitation facility, and in making arrangements for technical aids and equipment and for your home.