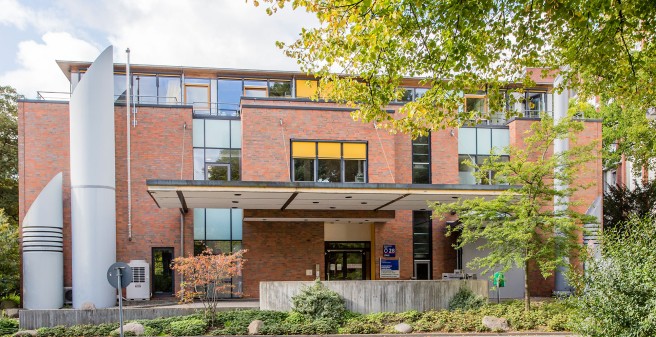 Facility

The clinical trials office is conveniently located at Building East 28 (O28), 2. Floor. We have seven offices with 16 fully equipped computer terminals, 10 clinical information system workplaces, and a conference room suitable for video – conferencing.
We are also equipped with 3 monitoring work – stations with internet and clinical information system access and WLAN access.
Trial documentation storage is provided according to GCP-ICH requirements, storage for trial medication, and human specimens at different conditions (RT, 5 degree Celsius, -20 degree Celsius, -80 degree Celsius) is temperature monitored and connected to a central 24/7 alarm system. Alternative storage capacities are provided in case of an emergency.
All offices, the archive, and storage facilities are access – restricted. Electronic ID cards are required here, and access is documented.
We have lab space available with a cooling centrifuge and material processing within the oncology outpatient clinic in East 24, 1st floor.
Moreover, we are equipped with a separate phase I unit with monitoring. For hospitalized clinical trial patients we provide 75 slots at 5 wards and 2 outpatient units, a BMT, and an ICU. Entity – specific consultation sessions provide multidisciplinary patient care.
Cytological-, FACS and cytogenetical analysis are readily available at the site.
All diagnostic procedures including radiological and endoscopic imaging are accessible 24/7. After finishing trial participation, storage of trial documentation according to regulatory authorities is implemented at our central archive.