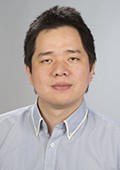 Dr. rer. nat.
Jiabin Huang
Location
---
Campus Forschung N27 , 2nd Floor, Room number 021
Curriculum vitae
Publications
2020
2019
2017
2016
2014
2012
2011
SARS-CoV-2 variant tracing within the first COVID-19 clusters in Northern Germany
Pfefferle S, Günther T, Kobbe R, Czech-Sioli M, Nörz D, Santer R, Oh J, Kluge S, Oestereich L, Peldschus K, Indenbirken D, Huang J, Grundhoff A, Aepfelbacher M, Knobloch J, Lütgehetmann M, Fischer N
CLIN MICROBIOL INFEC. 2020 [Epub ahead of print].
Complete Genome Sequence of a SARS-CoV-2 Strain Isolated in Northern Germany
Pfefferle S, Huang J, Nörz D, Indenbirken D, Lütgehetmann M, Oestereich L, Günther T, Grundhoff A, Aepfelbacher M, Fischer N
Microbiology resource announcements. 2020;9(23):.
T-lymphocyte-specific knockout of IKK-2 or NEMO induces T17 cells in an experimental nephrotoxic nephritis mouse model
Guo L, Huang J, Chen M, Piotrowski E, Song N, Zahner G, Paust H, Alawi M, Geffers R, Thaiss F
FASEB J. 2019;33(2):2359-2371.
Changes in the composition of the upper respiratory tract microbial community in granulomatosis with polyangiitis
Lamprecht P, Fischer N, Huang J, Burkhardt L, Lütgehetmann M, Arndt F, Rolfs I, Kerstein A, Iking-Konert C, Laudien M
J AUTOIMMUN. 2019;97:29-39.
Emergence of ceftazidime/avibactam non-susceptibility in an MDR Klebsiella pneumoniae isolate
Both A, Büttner H, Huang J, Perbandt M, Belmar Campos C, Christner M, Maurer F, Kluge S, König C, Aepfelbacher M, Wichmann D, Rohde H
J ANTIMICROB CHEMOTH. 2017;72(9):2483-2488.
First report of Escherichia coli co-producing NDM-1 and OXA-232
Both A, Huang J, Kaase M, Hezel J, Wertheimer D, Fenner I, Günther T, Grundhoff A, Büttner H, Aepfelbacher M, Rohde H, Hentschke M
DIAGN MICR INFEC DIS. 2016;86(4):437-438.
Autoimmune Renal Disease Is Exacerbated by S1P-Receptor-1-Dependent Intestinal Th17 Cell Migration to the Kidney
Krebs C, Paust H, Krohn S, Koyro T, Brix S, Riedel J, Bartsch P, Wiech T, Meyer-Schwesinger C, Huang J, Fischer N, Busch C, Mittrücker H, Steinhoff U, Stockinger B, Perez L, Wenzel U, Janneck M, Steinmetz O, Gagliani N, Stahl R, Huber S, Turner J, Panzer U
IMMUNITY. 2016;45(5):1078-1092.
Analysing RNA-kinetics based on folding space abstraction
Huang J, Voß B
BMC bioinformatics. 2014;15(1):60.
Abstract folding space analysis based on helices
Huang J, Backofen R, Voß B
RNA. 2012;18(12):2135-2147.
RNAHeliCes -- Folding space analysis based on position aware structure abstraction
Huang J, Voß B
2011. In Proceedings of the German Conference on Bioinformatics 2011. RT--31.
Letzte Aktualisierung aus dem FIS: 19.10.2020 - 06:27 Uhr