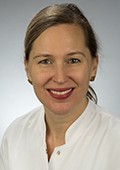 Dr. med.
Mirjam A. Wüsthof
Medical Specialist in Internal Medicine and Hematology and Oncology
Location
---
O43 , 1st Floor, Room number 113
Areas of expertise
Hematology

Oncology
Publications
Severe aplastic anaemia following leflunomide therapy.
Wüsthof M, Smirnova A, Bacher U, Kröger N, Zander A, Schuch G, Bokemeyer C
RHEUMATOLOGY. 2009.
Letzte Aktualisierung aus dem FIS: 19.01.2021 - 07:16 Uhr