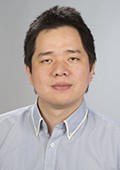 Dr. rer. nat.
Jiabin Huang
Location
---
Campus Forschung N27 , 2nd Floor, Room number 021
Curriculum vitae
Publications
2023
2022
2021
2020
2019
2017
2016
2014
2012
2011
A bacterial effector protein promotes nuclear translocation of Stat3 to induce IL-10.
Berneking L, Bekere I, Rob S, Schnapp M, Huang J, Ruckdeschel K, Aepfelbacher M
EUR J CELL BIOL. 2023;102(4):151364.
Genomics of Invasive Cutibacterium acnes Isolates from Deep-Seated Infections
Both A, Huang J, Hentschke M, Tobys D, Christner M, Klatte T, Seifert H, Aepfelbacher M, Rohde H
MICROBIOL SPECTR. 2023 [Epub ahead of print];11(2):e0474022.
First case of bloodstream infection caused by Mixta hanseatica sp. nov., a novel species within the Mixta genus of the Erwiniaceae family
Both A, Huang J, Wenzel P, Aepfelbacher M, Rohde H, Christner M, Hentschke M
NEW MICROB NEW INFEC. 2023;53:101117.
Rapid Development of cefiderocol resistance in a carbapenem-resistant Pseudomonas aeruginosa isolate associated with mutations in the pyoverdine biosynthesis pathway
Brakert L, Berneking L, Both A, Berinson B, Huang J, Aepfelbacher M, Wolschke C, Wichmann D, Rohde H
J GLOB ANTIMICROB RE. 2023;34:59-62.
IKK1 aggravates ischemia-reperfusion kidney injury by promoting the differentiation of effector T cells
Song N, Xu Y, Paust H, Panzer U, Noriega M, Guo L, Renne T, Huang J, Meng X, Zhao M, Thaiss F
CELL MOL LIFE SCI. 2023;80(5):125.
Target capture sequencing reveals a monoclonal outbreak of respiratory syncytial virus B infections among adult hematologic patients
Baier C, Huang J, Reumann K, Indenbirken D, Thol F, Koenecke C, Ebadi E, Heim A, Bange F, Haid S, Pietschmann T, Fischer N
ANTIMICROB RESIST IN. 2022;11(1):88.
Population dynamics in colonizing vancomycin-resistant Enterococcus faecium isolated from immunosuppressed patients
Both A, Kruse F, Mirwald N, Franke G, Christner M, Huang J, Hansen J, Kröger N, Berneking L, Lellek H, Aepfelbacher M, Rohde H
J GLOB ANTIMICROB RE. 2022;28:267-273.
A pharmacokinetic-pharmacodynamic (PKPD) model-based analysis of tedizolid against enterococci using the hollow-fibre infection model
Iqbal K, Rohde H, Huang J, Tikiso T, Amann L, Zeitlinger M, Wicha S
J ANTIMICROB CHEMOTH. 2022;77(9):2470–2478.
Mechanisms of CD8+ T cell failure in chronic hepatitis E virus infection
Kemming J, Gundlach S, Panning M, Huzly D, Huang J, Lütgehetmann M, Fischer N, Neumann-Haefelin C
J HEPATOL. 2022;77(4):978-990.
Respiratory Syncytial Virus Two-Step Infection Screen Reveals Inhibitors of Early and Late Life Cycle Stages
Sake S, Kosch C, Blockus S, Haid S, Gunesch A, Zhang X, Friesland M, Trummer S, Grethe C, Kühnel A, Rückert J, Duprex W, Huang J, Rameix-Welti M, Empting M, Fischer N, Hirsch A, Schulz T, Pietschmann T
ANTIMICROB AGENTS CH. 2022;66(12):.
Yersinia remodels epigenetic histone modifications in human macrophages
Bekere I, Huang J, Schnapp M, Rudolph M, Berneking L, Ruckdeschel K, Grundhoff A, Günther T, Fischer N, Aepfelbacher M
PLOS PATHOG. 2021;17(11):.
Distinct clonal lineages and within-host diversification shape invasive Staphylococcus epidermidis populations
Both A, Huang J, Qi M, Lausmann C, Weißelberg S, Büttner H, Lezius S, Failla A, Christner M, Stegger M, Gehrke T, Baig S, Citak M, Alawi M, Aepfelbacher M, Rohde H
PLOS PATHOG. 2021;17(2):e1009304.
Benchmark of thirteen bioinformatic pipelines for metagenomic virus diagnostics using datasets from clinical samples
de Vries J, Brown J, Fischer N, Sidorov I, Morfopoulou S, Huang J, Munnink B, Sayiner A, Bulgurcu A, Rodriguez C, Gricourt G, Keyaerts E, Beller L, Bachofen C, Kubacki J, Samuel C, Florian L, Dennis S, Beer M, Hoeper D, Huber M, Kufner V, Zaheri M, Lebrand A, Papa A, van Boheemen S, Kroes A, Breuer J, Lopez-Labrador F, Claas E
J CLIN VIROL. 2021;141:.
Strong Replication Interference Between Hepatitis Delta Viruses in Human Liver Chimeric Mice
Giersch K, Hermanussen L, Volz T, Volmari A, Allweiss L, Sureau C, Casey J, Huang J, Fischer N, Lütgehetmann M, Dandri M
FRONT MICROBIOL. 2021;12:671466.
Simulation of Folding Kinetics for Aligned RNAs
Huang J, Voß B
GENES-BASEL. 2021;12(3):.
Complete genome sequencing and molecular characterization of SARS-COV-2 from COVID-19 cases in Alborz province in Iran
Kaffashi A, Huang J, Bairami A, Fallah Mehrabadi M, Yaslianifard S, Bashashati M, Banihashemi S, Soleimanifar F, Lotfi M, Taghizadeh M, Soleimani A, Khorasani A, Moshiri F, Mozhgani S
HELIYON. 2021;7(9):.
An inter‑laboratory study to investigate the impact of the bioinformatics component on microbiome analysis using mock communities
O'Sullivan D, Doyle R, Temisak S, Redshaw N, Whale A, Logan G, Huang J, Fischer N, Amos G, Preston M, Marchesi J, Wagner J, Parkhill J, Motro Y, Denise H, Finn R, Kay G, O'Grady J, Ransom-Jones E, Wu H, Laing E, Benavente E, Phelan J, Clark T, Moran-Gilad J, Huggett J
SCI REP-UK. 2021;11(1):10590.
SARS Coronavirus-2 variant tracing within the first Coronavirus Disease 19 clusters in northern Germany
Pfefferle S, Günther T, Kobbe R, Czech-Sioli M, Nörz D, Santer R, Oh J, Kluge S, Oestereich L, Peldschus K, Indenbirken D, Huang J, Grundhoff A, Aepfelbacher M, Knobloch J, Lütgehetmann M, Fischer N
CLIN MICROBIOL INFEC. 2021;27(1):130.e5-130.e8.
Vertically transferred maternal immune cells promote neonatal immunity against early life infections
Stelzer I, Urbschat C, Schepanski S, Thiele K, Triviai I, Wieczorek A, Alawi M, Ohnezeit D, Kottlau J, Huang J, Fischer N, Mittrücker H, Solano M, Fehse B, Diemert A, Stahl F, Arck P
NAT COMMUN. 2021;12(1):4706.
Complete Genome Sequence of a SARS-CoV-2 Strain Isolated in Northern Germany
Pfefferle S, Huang J, Nörz D, Indenbirken D, Lütgehetmann M, Oestereich L, Günther T, Grundhoff A, Aepfelbacher M, Fischer N
MICROBIOL RESOUR ANN. 2020;9(23):.
T-lymphocyte-specific knockout of IKK-2 or NEMO induces T17 cells in an experimental nephrotoxic nephritis mouse model
Guo L, Huang J, Chen M, Piotrowski E, Song N, Zahner G, Paust H, Alawi M, Geffers R, Thaiss F
FASEB J. 2019;33(2):2359-2371.
Changes in the composition of the upper respiratory tract microbial community in granulomatosis with polyangiitis
Lamprecht P, Fischer N, Huang J, Burkhardt L, Lütgehetmann M, Arndt F, Rolfs I, Kerstein A, Iking-Konert C, Laudien M
J AUTOIMMUN. 2019;97:29-39.
Emergence of ceftazidime/avibactam non-susceptibility in an MDR Klebsiella pneumoniae isolate
Both A, Büttner H, Huang J, Perbandt M, Belmar Campos C, Christner M, Maurer F, Kluge S, König C, Aepfelbacher M, Wichmann D, Rohde H
J ANTIMICROB CHEMOTH. 2017;72(9):2483-2488.
First report of Escherichia coli co-producing NDM-1 and OXA-232
Both A, Huang J, Kaase M, Hezel J, Wertheimer D, Fenner I, Günther T, Grundhoff A, Büttner H, Aepfelbacher M, Rohde H, Hentschke M
DIAGN MICR INFEC DIS. 2016;86(4):437-438.
Autoimmune Renal Disease Is Exacerbated by S1P-Receptor-1-Dependent Intestinal Th17 Cell Migration to the Kidney
Krebs C, Paust H, Krohn S, Koyro T, Brix S, Riedel J, Bartsch P, Wiech T, Meyer-Schwesinger C, Huang J, Fischer N, Busch C, Mittrücker H, Steinhoff U, Stockinger B, Perez L, Wenzel U, Janneck M, Steinmetz O, Gagliani N, Stahl R, Huber S, Turner J, Panzer U
IMMUNITY. 2016;45(5):1078-1092.
RNA folding space analysis using structure abstraction
Huang J
2014.
Analysing RNA-kinetics based on folding space abstraction
Huang J, Voß B
BMC BIOINFORMATICS. 2014;15(1):60.
Abstract folding space analysis based on helices
Huang J, Backofen R, Voß B
RNA. 2012;18(12):2135-2147.
Reducing the search space in RNA helix based folding. European Conference on Computational Biology
Huang J, Voß B
2012. European Conference on Computational Biology (ECCB) 2012. .
RNAHeliCes -- Folding space analysis based on position aware structure abstraction
Huang J, Voß B
2011. In Proceedings of the German Conference on Bioinformatics 2011. RT--31.
Letzte Aktualisierung aus dem FIS: 29.11.2023 - 03:49 Uhr