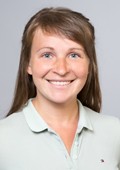 Valentina Leier
M. A.
Scientist
(currently on parental leave)
Location
---
Quartier am Zeughaus, Christoph-Probst-Weg 1, 20251 Hamburg, 4th Floor, Room number 04.1.027
Areas of expertise
Epidemiology
Publications
2019
Aussiedler Mortality (AMOR): cohort studies on ethnic German migrants from the Former Soviet Union
Winkler V, Kaucher S, Deckert A, Leier V, Holleczek B, Meisinger C, Razum O, Becher H
BMJ OPEN. 2019;9(2):e024865.
2017
Time trends of cause-specific mortality among resettlers in Germany, 1990 through 2009
Kaucher S, Leier V, Deckert A, Holleczek B, Meisinger C, Winkler V, Becher H
EUR J EPIDEMIOL. 2017;32(4):289-298.
2015
Gesundheitsförderung in kleinen und mittleren Unternehmen: Konzeption und Evaluation einer Maßnahme zur Prävention berufsbedingter Hauterkrankungen
Cacace M, Leier V, Riegel B
Arbeitsmed Sozialmed Umweltmed. 2015;(8):556-560.
Promoting employee health in small and medium-sized enterprises: designing and evaluating a concept for preventing occupational dermatological illnesses.
Cacace M, Leier V, Riegel B
2015. Healthy at Work. Wiencke M, Cacace M, Fischer S (eds.). 1. ed. Springer International Publishing, .
2014
Hautschulungen lohnen sich auch in kleineren Unternehmen
Cacace M, Leier V, Riegel B
Der Deutsche Dermatologe. 2014;62(11):802-805.
Letzte Aktualisierung aus dem FIS: 31.01.2023 - 04:37 Uhr