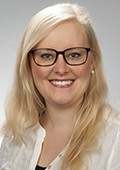 Location
---
HPI, 1st Floor, Room number 2134
Publications
The Ubiquitin specific Protease Usp7, a novel Merkel cell polyomavirus Large T-Antigen interaction partner, modulates viral DNA replication
Czech-Sioli M, Siebels S, Radau S, Zahedi R, Schmidt C, Dobner T, Grundhoff A, Fischer N
J VIROL. 2020;94(5):.
Merkel Cell Polyomavirus DNA Replication Induces Senescence in Human Dermal Fibroblasts in a Kap1/Trim28-Dependent Manner
Siebels S, Czech-Sioli M, Spohn M, Schmidt C, Theiss J, Indenbirken D, Günther T, Grundhoff A, Fischer N
MBIO. 2020;11(2):.
Pregnancy-Related Immune Adaptation Promotes the Emergence of Highly Virulent H1N1 Influenza Virus Strains in Allogenically Pregnant Mice
Engels G, Hierweger A, Hoffmann J, Thieme R, Thiele S, Bertram S, Dreier C, Resa-Infante P, Jacobsen H, Thiele K, Alawi M, Indenbirken D, Grundhoff A, Siebels S, Fischer N, Stojanovska V, Muzzio D, Jensen F, Karimi K, Mittrücker H, Arck P, Gabriel G
CELL HOST MICROBE. 2017;21(3):321-333.
Letzte Aktualisierung aus dem FIS: 21.04.2021 - 06:45 Uhr