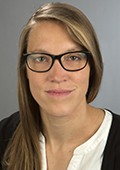 Dr. rer. nat.
Marie Schnapp
PhD
Location
---
Campus Forschung N27 , 2nd Floor, Room number 034
Publications
Immunosuppressive Yersinia Effector YopM Binds DEAD Box Helicase DDX3 to Control Ribosomal S6 Kinase in the Nucleus of Host Cells
Berneking L, Schnapp M, Rumm A, Trasak C, Ruckdeschel K, Alawi M, Grundhoff A, Kikhney A, Nolte F, Buck F, Perbandt M, Betzel C, Svergun D, Hentschke M, Aepfelbacher M
PLOS PATHOG. 2016;12(6):e1005660.
Letzte Aktualisierung aus dem FIS: 28.10.2020 - 06:33 Uhr