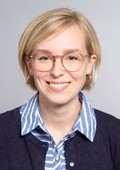 Maja Brandt
M. Sc.-Psych.
Publications
2020
Does a mindfulness-augmented version of the German Strengthening Families Program reduce substance use in adolescents? Study protocol for a randomized controlled trial
Arnaud N, Baldus C, Laurenz L, Bröning S, Brandt M, Kunze S, Austermann M, Zimmermann L, Daubmann A, Thomasius R
TRIALS. 2020;21(114):.
Interface management concepts in healthcare for rare diseases in Germany: a study protocol for a mixed-methods study to develop best practice recommendations
Inhestern L, Zybarth D, Otto R, Brandt M, Härter M, Bergelt C
BMJ OPEN. 2020;10(11):e040470.
Letzte Aktualisierung aus dem FIS: 26.05.2022 - 04:00 Uhr