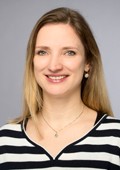 Tanja Spethmann
Medical Specialist in Orthopaedics and Traumatology
Location
---
N62 , Ground Floor, Room number 2
Publications
2021
Opposing prognostic relevance of junction plakoglobin in distinct prostate cancer patient subsets
Spethmann T, Böckelmann L, Labitzky V, Ahlers A, Schröder-Schwarz J, Bonk S, Simon R, Sauter G, Huland H, Kypta R, Schumacher U, Lange T
MOL ONCOL. 2021;15(7):1956-1969.
2020
Xenograft-derived mRNA/miR and protein interaction networks of systemic dissemination in human prostate cancer
Lange T, Samatov T, Galatenko V, Steffen P, von Kriegstein H, Spethmann T, Wicklein D, Maar H, Kupfernagel K, Labitzky V, Hanika S, Starzonek S, Ahlers A, Riecken K, Simon R, Polonski A, Sauter G, Schlomm T, Huland H, Johnsen S, Schlüter H, Tonevitsky A, Schumacher U
EUR J CANCER. 2020;137:93-107.
Letzte Aktualisierung aus dem FIS: 28.05.2022 - 03:54 Uhr