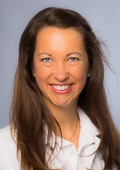 Dr. med.
Theresa Harbauer
Medical Specialist in Pediatrics and Youth Medicine
Areas of expertise
Neonatology and pediatric intensive care medicine
Publications
Fatal COVID-19 in a Child with Persistence of SARS-CoV-2 Despite Extensive Multidisciplinary Treatment: A Case Report
Apostolidou S, Harbauer T, Lasch P, Biermann D, Hempel M, Lütgehetmann M, Pfefferle S, Herrmann J, Rüffer A, Reinshagen K, Kozlik-Feldmann R, Gieras A, Kniep I, Oh J, Singer D, Ebenebe C, Kobbe R
CHILDREN-BASEL. 2021;8(7):.
Bacteriophage Rescue Therapy of a Vancomycin-Resistant Enterococcus faecium Infection in a One-Year-Old Child following a Third Liver Transplantation
Paul K, Merabishvili M, Hazan R, Christner M, Herden U, Gelman D, Khalifa L, Yerushalmy O, Coppenhagen-Glazer S, Harbauer T, Schulz-Jürgensen S, Rohde H, Fischer L, Aslam S, Rohde C, Nir-Paz R, Pirnay J, Singer D, Muntau A
VIRUSES-BASEL. 2021;13(9):1785.
Letzte Aktualisierung aus dem FIS: 07.02.2023 - 04:31 Uhr