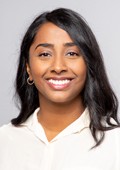 Tharanya Seeralan
M. Sc.-Psych.
Publications
2020
PNP-Vertrag – Facharztvertrag Psychotherapie, Neurologie, Psychiatrie in Baden-Württemberg: Evaluation aus der Sicht der teilnehmenden Behandlerinnen und Behandler
Magaard J, Seeralan T, Meister R, Liebherz S, Engels A, König H, Chaudhuri A, Härter M
PSYCHIAT PRAX. 2020;47(2):71-78.
Patient involvement in developing a patient-targeted feedback intervention after depression screening in primary care within the randomized controlled trial GET.FEEDBACK.GP
Seeralan T, Härter M, Koschnitzke C, Scholl M, Kohlmann S, Lehmann M, Eisele M, Braunschneider L, Marx G, Scherer M, Löwe B, Magaard J, Brütt A
HEALTH EXPECT. 2020.
2019
Depressionsbehandlung aus Betroffenensicht – Eine qualitative Analyse der subjektiven Behandlungsvorstellungen über Psychotherapie und hausärztliche Versorgung von Menschen mit Depressionen
Magaard J, Seeralan T, De A, Schulz H, Brütt A
PSYCHIAT PRAX. 2019;46(5):268-273.
2017
Factors associated with help-seeking behaviour among individuals with major depression: A systematic review
Magaard J, Seeralan T, Schulz H, Brütt A
PLOS ONE. 2017;12(5):e0176730.
2015
No pain, no gain? Adverse effects of psychotherapy in obsessive-compulsive disorder and its relationship to treatment gains
Moritz S, Fieker M, Hottenrott B, Seeralan T, Cludius B, Kolbeck K, Gallinat J, Nestoriuc Y
J OBSESS-COMPULS REL. 2015;5:61-66.
Letzte Aktualisierung aus dem FIS: 24.10.2020 - 06:52 Uhr