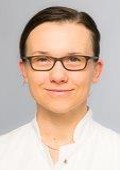 Sarah Kabisch
Medical Specialist in Pediatrics and Youth Medicine
Publications
Hematopoietic stem cell transplantation in mucopolysaccharidosis type IIIA: A case description and comparison with a genotype-matched control group
Köhn A, Grigull L, du Moulin M, Kabisch S, Ammer L, Rudolph C, Muschol N
MOL GENET METAB REP. 2020;23:100578.
Konnataler Morbus Basedow mit begleitender konjugierter Hyperbilirubinämie
Kabisch S, Wolf M, Akkurt I, Singer D
Päd Praxis. 2015;84(2):191-195.
Letzte Aktualisierung aus dem FIS: 05.02.2023 - 04:43 Uhr