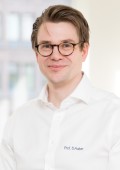 Prof. Dr. med.
Samuel Huber
Director of the department
Heisenberg-Professur für Intestinale Immunregulation
Leiter der molekularen Gastroenterologie und Immunologie
Medical Specialist in Internal Medicine and Gastroenterology
Location
---
Main Building O10 , 2nd Floor
Curriculum vitae
Awards
2019 ERC Consolidator grant

2017: Theodor-Frerichs-Preis der DGIM

2017: Heisenberg Professur für Intestinale Immunregulation

2013 ERC Starting grant

2013: DACED Zukunftspreis

2013: Dr.-Liselotte-Brauns-Preis für die beste Klinische Forschungsarbeit im Fachbereich Innere Medizin

2012: Ernst Jung-Karriere-Förder-Preis für medizinische Forschung

2012: Peter Hans Hofschneider Stiftungsprofessur

2010: Postdoctoral Fellowship award der "Crohn's and Colitis Foundation of America"

2009: Dr. Martini-Preis (geteilt mit Dr. S. Lüth)

2009: James Hudson Brown - Alexander Brown Coxe Postdoctoral Fellowship award

2006: Johannes Gutenberg Promotionspreis
Memberships
DGVS

DGIM

ECCO

DACED

Kompetenznetz Darmerkrankung e.V.
Publications
Kempski J*, Giannou AD*, Riecken K, …, Lohse AW, Flavell RA, Gagliani N*, Huber S*. IL22BP Mediates the Antitumor Effects of Lymphotoxin Against Colorectal Tumors in Mice and Humans. Gastroenterology 2020;159:1417-1430.e3.

Perez LG, Kempski J, McGee HM, …, Gagliani N, Flavell RA*, Huber S*. TGF-beta signaling in Th17 cells promotes IL-22 production and colitis-associated colon cancer. Nat Commun 2020;11:2608.

Brockmann L, Soukou S, Steglich B, …, Lohse AW, …, Villablanca EJ, Gagliani N*, Huber S*. Molecular and functional heterogeneity of IL-10-producing CD4(+) T cells. Nat Commun 2018;9:5457.

Pelczar P*, Witkowski M*, Perez LG*, …, Lohse AW, …, Gagliani N*, Flavell RA*, Huber S*. A pathogenic role for T cell-derived IL-22BP in inflammatory bowel disease. Science 2016;354:358-62.

Gagliani N, Amezcua Vesely MC*, Iseppon A*, …, Esplugues E, Huber S*, Flavell RA*. Th17 cells transdifferentiate into regulatory T cells during resolution of inflammation. Nature 2015;523:221-5.

Gagliani N*, Magnani CF*, Huber S*, …, Gregori S, Flavell RA, Roncarolo MG. Coexpression of CD49b and LAG-3 identifies human and mouse T regulatory type 1 cells. Nat Med 2013;19:739-46.

Huber S*, Gagliani N*, Zenewicz LA, …, Bosurgi L, …, Ouyang W, Abraham C, Flavell RA. IL-22BP is regulated by the inflammasome and modulates tumorigenesis in the intestine. Nature 2012;491:259-63

Esplugues E*, Huber S*, Gagliani N, …, Bluestone JA, Herold KC, Flavell RA. Control of TH17 cells occurs in the small intestine. Nature 2011;475:514-8.

Huber S*, Gagliani N*, Esplugues E*, …, Roncarolo MG, Battaglia M, Flavell RA. Th17 cells express interleukin-10 receptor and are controlled by Foxp3 and Foxp3+ regulatory CD4+ T cells in an interleukin-10-dependent manner. Immunity 2011;34:554-65.