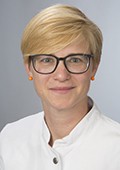 Dr. med.
Sabine Jordan
Functional senior physician
Medical Specialist in Internal Medicine
Areas of expertise
Infectiology

Tropical medicine
Memberships
Deutsche Gesellschaft für Tropenmedizin und internationale Gesundheit (DTG)

Deutsche Gesellschaft für Infektiologie (DGI)
Publications
Tavakolipoor P, Schmidt-Chanasit, Burchard GD, Jordan S. Clinical features and laboratory findings of dengue fever in German travellers: A single-centre, retrospective analysis. Travel Med Infect Dis. 2016 Jan-Feb;14(1):39-44

Roeder C, Jordan S, Schulze Zur Wiesch J, Pfeiffer-Vornkahl H, Hueppe D, Mauss S, Zehnter E, Stoll S, Alshuth U, Lohse AW, Lueth S. Age-related differences in response to peginterferon alfa-2a/ribavirin in patients with chronic hepatitis C infection. World J Gastroenterol. 2014 Aug 21;20(31):10984-93.

Wehmeyer MH, Jordan S, Lüth S, Hartl J, Stoehr A, Eißing C, Lohse AW, Petersen J, Buggisch P, Schulze Zur Wiesch J. Efficacy and safety of sofosbuvir-based triple therapy in hepatitis C genotype 4 infection. Dig Liver Dis. 2015 Sep;47(9):811-4

Frank C, Werber D, Cramer JP, Askar M, Faber M, an der Heiden M, Bernard H, Fruth A, Prager R, Spode A, Wadl M, Zoufaly A, Jordan S, Kemper MJ, Follin P, Müller L, King LA, Rosner B, Buchholz U, Stark K, Krause G; HUS Investigation Team.Epidemic profile of Shiga-toxin-producing Escherichia coli O104:H4 outbreak in Germany.N Engl J Med. 2011 Nov 10;365(19):1771-80

Schwöbel B, Jordan S, Vanisaveth V, Phetsouvanh R, Christophel EM, Phompida S, von Sonnenburg F, Jelinek T. Therapeutic efficacy of chloroquine plus sulphadoxine/ pyrimethamine compared with monotherapy with either chloroquine or sulphadoxine/pyrimethamine in uncomplicated Plasmodium falciparum malaria in Laos. Trop Med Int Health. 2003 Jan;8(1):19-24.

Jordan S, Jelinek T, Aida AO, Peyerl-Hoffmann G, Heuschkel C, el Valy AO, Christophel EM. Population structure of Plasmodium falciparum isolates during an epidemic in southern Mauritania. Trop Med Int Health. 2001 Oct;6(10):761-6.