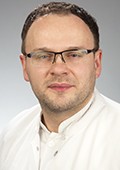 Dr. med.
Maxim Kebenko
Medical Specialist in Internal Medicine
Medical Specialist in Internal Medicine and Hematology and Oncology
Areas of expertise
Hematology

Oncology

Internal medicine
Publications
2020
2018
2017
2016
2015
2014
2008
A Phase II study of selinexor plus cytarabine and idarubicin in patients with relapsed/refractory acute myeloid leukaemia
Fiedler W, Chromik J, Amberg S, Kebenko M, Thol F, Schlipfenbacher V, Christine Wilke A, Modemann F, Janning M, Serve H, Ganser A, Bokemeyer C, Theile S, Deppermann U, Kranich A, Heuser M
BRIT J HAEMATOL. 2020;190(3):e169-e173.
A multicenter phase 1 study of solitomab (MT110, AMG 110), a bispecific EpCAM/CD3 T-cell engager (BiTE®) antibody construct, in patients with refractory solid tumors
Kebenko M, Goebeler M, Wolf M, Hasenburg A, Seggewiss-Bernhardt R, Ritter B, Rautenberg B, Atanackovic D, Kratzer A, Rottman J, Friedrich M, Vieser E, Elm S, Patzak I, Wessiepe D, Stienen S, Fiedler W
ONCOIMMUNOLOGY. 2018;7(8):e1450710.
Phase I/II study on cytarabine and idarubicin combined with escalating doses of clofarabine in newly diagnosed patients with acute myeloid leukaemia and high risk for induction failure (AMLSG 17-10 CIARA trial)
Krauter J, Fiedler W, Schlenk R, Paschka P, Thol F, Lübbert M, Wattad M, Verbeek M, Könecke C, Neuhaus B, Papkalla A, Kebenko M, Janning M, Döhner K, Gaidzik V, Becker H, Greil C, Reimer P, Götze K, Döhner H, Ganser A, Heuser M
BRIT J HAEMATOL. 2018;183(2):235-241.
Combined inhibition of GLI and FLT3 signaling leads to effective anti-leukemic effects in human acute myeloid leukemia
Latuske E, Stamm H, Klokow M, Vohwinkel G, Muschhammer J, Bokemeyer C, Jücker M, Kebenko M, Fiedler W, Wellbrock J
ONCOTARGET. 2017;8(17):29187-29201.
Phase I clinical study of RG7356, an anti-CD44 humanized antibody, in patients with acute myeloid leukemia
Vey N, Delaunay J, Martinelli G, Fiedler W, Raffoux E, Prebet T, Gomez-Roca C, Papayannidis C, Kebenko M, Paschka P, Christen R, Guarin E, Bröske A, Baehner M, Brewster M, Walz A, Michielin F, Runza V, Meresse V, Recher C
ONCOTARGET. 2016;7(22):32532-42.
A phase I/II study of sunitinib and intensive chemotherapy in patients over 60 years of age with acute myeloid leukaemia and activating FLT3 mutations
Fiedler W, Kayser S, Kebenko M, Janning M, Krauter J, Schittenhelm M, Götze K, Weber D, Göhring G, Teleanu V, Thol F, Heuser M, Döhner K, Ganser A, Döhner H, Schlenk R
BRIT J HAEMATOL. 2015.
ErbB2 signaling activates the Hedgehog pathway via PI3K-Akt in human esophageal adenocarcinoma: Identification of novel targets for concerted therapy concepts
Kebenko M, Drenckhan A, Gros S, Jücker M, Grabinski N, Ewald F, Grottke A, Schultze A, Izbicki J, Bokemeyer C, Wellbrock J, Fiedler W
CELL SIGNAL. 2015;27(2):373-81.
Akute myeloische Leukämie –bestmögliche Behandlung.
Fiedler W, Janning M, Kebenko M, Weidmann J, Janjetovic S, Bokemeyer C
Hamb Ärztebl. 2014;68:11-17.
T3-mediated expression of PGC-1alpha via a far upstream located thyroid hormone response element.
Wulf A, Harneit A, Kröger M, Kebenko M, Wetzel M, Weitzel J
MOL CELL ENDOCRINOL. 2008;287(1-2):90-95.
The role of thyroid hormone receptor DNA binding in negative thyroid hormone-mediated gene transcription.
Wulf A, Wetzel M, Kebenko M, Kröger M, Harneit A, Merz J, Weitzel J
J MOL ENDOCRINOL. 2008;41(1):25-34.
Letzte Aktualisierung aus dem FIS: 10.04.2021 - 07:22 Uhr