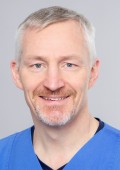 Dr. med.
Matthias Jahn
Medical Specialist in Pediatrics and Youth Medicine
Neonatology
Pädiatrische Intensivmedizin
International Board Certified Lactation Consultant (IBCLC)
Location
---
Main Building O10 , 5th Floor
Areas of expertise
Neonatology
Publications
A prospective observational trial evaluating factors predictive of accurate endotracheal tube positioning in neonates and small infants
Ebenebe C, Deindl P, Wolf M, Jahn M, Singer D, Blohm M
PEDIATR ANESTH. 2020;30(8):922-927.
Letzte Aktualisierung aus dem FIS: 07.02.2023 - 04:27 Uhr