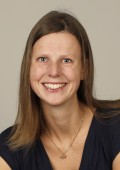 Location
---
W37 , 6th Floor, Room number 6006
Curriculum vitae
Publications
2021
Association between received treatment elements and satisfaction with care for patients with knee osteoarthritis seen in general practice in Denmark
Baumbach L, Ankerst D, Roos E, Nyberg L, Cottrell E, Lykkegaard J
SCAND J PRIM HEALTH. 2021;39(2):257-264.
2020
Individualized predictions of changes in knee pain, quality of life and walking speed following patient education and exercise therapy in patients with knee osteoarthritis - A prognostic model study
Baumbach L, List M, Grønne D, Skou S, Roos E
OSTEOARTHR CARTILAGE. 2020;28(9):1191-1201.
Patients with osteoarthritis are least likely to receive lifestyle advice compared with patients with diabetes and hypertension: A national health survey study from Denmark
Baumbach L, Roos E, Lykkegaard J, Thomsen K, Kristensen P, Christensen A, Thorlund J
Osteoarthritis and Cartilage Open. 2020;2(3):100067.
2019
Besser leben mit Osteoarthritis – GLA:D-Initiative "Good Life with osteoArthritis in Denmark"
Baumbach L, Skou S, Roos E
physiopraxis. 2019;17(9):27-31.
Zukunftsweisendes Arthrose-Management
Baumbach L, Skou S, Roos E
Der Schmerzpatient. 2019;2(1):23-28.
2018
JIGSAW-E, et internationalt kvalitetsudviklingsprojekt om artrose
Lykkegaard J, Baumbach L, Andersen A, Johansen L, Roos E
Månedsskrift for almen praksis. 2018;96(5):377-384.
Letzte Aktualisierung aus dem FIS: 28.09.2021 - 04:01 Uhr